Elion Tech Holds a Training Program for its New Employees
March 09,2016
www.chinabuses.org: On March 4, in an effort to help newly recruited employees get familiar with their new working environment, gain an in-depth knowledge of its core business and main products, as well as improve their overall job skills, Elion Tech held the first round of training program for its first batch of new staff in 2016. Liu Ye, Product Manager of the company was invited to preside over the training program. Sun Yanli, Manager at the General Management Center, Zhuang Zhikun, Manager of Production Department, Cheng Lian, HR Director, together with 60-plus new employees attended the training program.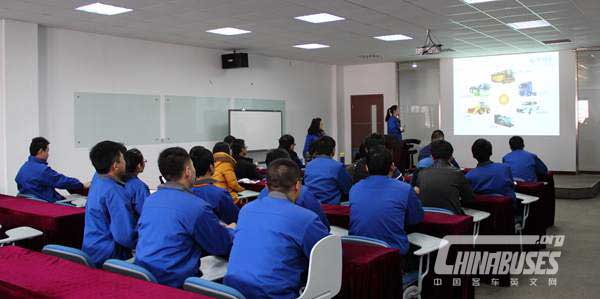 At one pm sharp, the training was officially started at the company's multi-media center. The new blood of the company comes from the Marketing Department, R&D Department, Technology Department, and Production Department, etc. At the very beginning, they were receiving a course which introduces the company's product line. Liu Ye from the Product Department first gave a detailed introduction about the classification of commercial vehicles, the working principles and development history of engine cooling system. Then, he elaborated on Elion Tech's own intelligent engine cooling system ATS, its research and development, sales, post-sales service, market, etc.

After the course, all new employees took an exam to help them gain a better understanding of the company's products. After the theoretical course, some new employees said that they had gained much knowledge about Elion Tech. While proud of its past achievements, they are ready to contribute their own talent to the continued growth of the company. Apart from all the new ones, some other employees also actively participated in Friday's training course.
Source : www.chinabuses.org
Views:3369
Tags: Elion
Poster Press to save or share