12 Yutong Luxury Double Decker Touring Buses Operates in Erhai Tourism Line
March 06,2015
www.chinabuses.org: At the beginning of the year, Dali tourism region sees the new holiday touring mode that 12 units of Yutong luxury double-deck touring buses start operation around Erhai Lake tourism line, operated by Erhai Dali Tourism Company.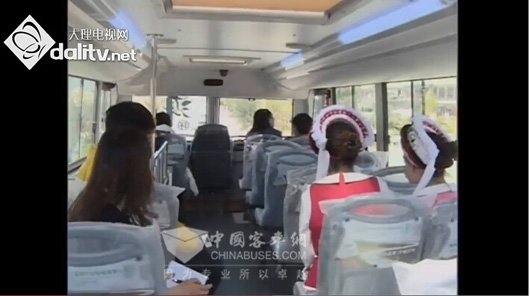 From February 20, 2015 to 22, Erhai Dali Tourism Company specially invited more than 100 villagers in 20 villages around Erhai, to participate in the free bus touring activity.

The 12 units of Yutong luxury double-deck touring buses are tailored for Erhai Lake tourism line. High in 4.2 meters and long in 11 meters, the bus is equipped with refrigerator, water machine and on-board WIFI. Seats on the high deck are the normal passenger seats while on the low deck seats are for VIPs, which in all are capable of loading 46 passengers. Sitting on the spacious touring bus, through the wide bus window, the beautiful scenery is all in sight and it is convenient to share the enjoyable moment with friends and relative in afar with on-board WIFI.

The new buses, which will be put into trail operation after Spring Festival, will overthrow the traditional tourism mode to boost the second time development of tourism industry in Dali. By that time, It will not only be the privilege for people who own a car to enjoy the scenery and breeze around Erhai but also for passengers who even have no plan nor any idea about touring Erhai line that getting on board the Yutong luxury double-deck touring bus is the solution.

The operation of Yutong luxury double-deck touring bus facilitates tourists that they can spend less time touring the classic spots, experiencing perfect service in all aspects like eating, accommodation and entertainment with less money and less worry, on the other hand, if tourists are interested in certain spot, they can get off the bus for a further visit, which in all drives economic development of the towns along Erhai tourism line and push Dali tourism industry up to a new level.
Source : www.chinabuses.org
Views:3791
Poster Press to save or share