Foton AUV to Spread the APEC Blue to the Whole Country
December 09,2014
www.chinabuses.org: On December 5, the event "Maintain the APEC Blue—Hebei is on the Way" was jointly held by Foton AUV and over 80 customers from Hebei Province.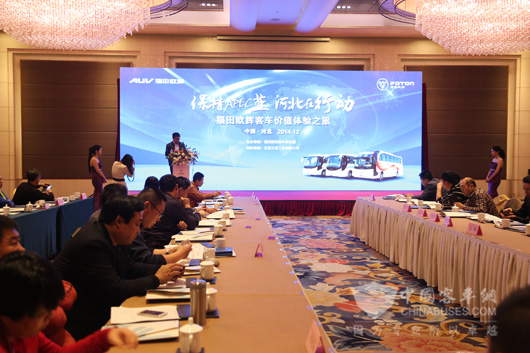 Foton AUV brought BJ6127 series new energy buses and LNG city buses to the event as the transport solution to fight against the haze around the Beijing, Tianjin and Hebei area.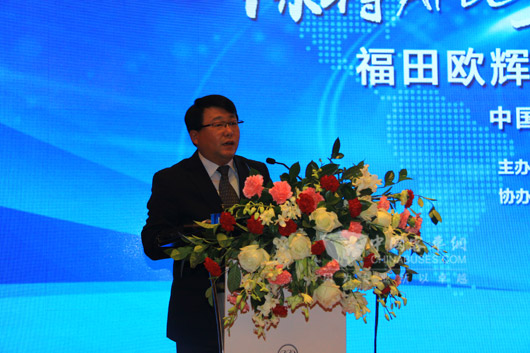 During the meeting, Fan Xianjun, the Vice President and deputy general manager of Foton AUV Bus Group said that Foton AUV always dedicates itself to deliver customers products with better level of safety, energy-saving and eco-friendliness.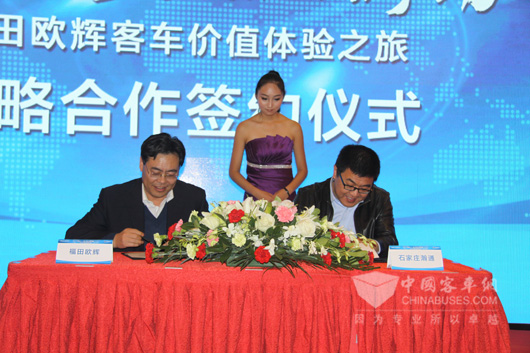 Foton brought a unit of Intelligence Blue D9 electric business shuttle bus and a unit of BJ6127 plug-in hybrid electric bus, together with three units of LNG intercity buses including BJ6129, BJ6113 and BJ6902.

On the promotion meeting, 50 units of intercity buses are delivered on site. As a loyal customer of Foton AUV, Shijiazhuang Hantong Automobile Leasing Co., Ltd. purchase 40 units of BJ6127 based on products' outstanding quality tested during operation and the mutual trust between the two companies, especially the fashion styling and high price ratio of the bus.

Foton AUV will delivery sustainable transport solutions to more customers in the the future to spread the "APEC Blue" to the whole country.
Source : www.chinabuses.org
Views:4040
Tags: Foton AUV new energy bus
Poster Press to save or share