Golden Dragon Makes Travel More Convenient on the World's Roof
September 11,2014
www.chinabuses.org: Along with the improved road conditions in Tibet, the region has witnessed an increasing number of tourists. To meet the huge demand for tourist transportation, Xiamen Golden Dragon has long been working hard to explore the local tourist transportation market. By making timely adjustment to the local special weather and operating conditions, the bus maker quickly won the heart of the local tourist bus operators.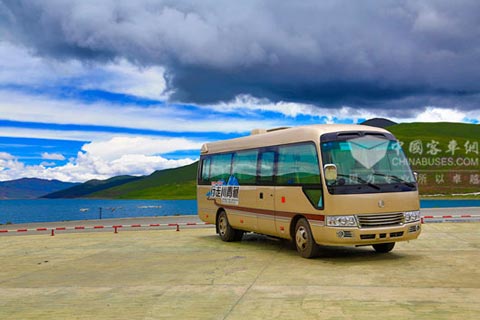 In 2003, the first batch of 13 units Golden Dragon XML6742E1G buses made their first low-profile appearance in the largest tourist transport company, Tibet Boda Tourist Transport Co., Ltd. In 2006, over 30 Golden Dragon buses, all of which ere the company's fist products, including XML6700E2G and XML6601C2 started operation in Tibet. Quickly, the batch of buses gained their foothold in the local market by their highly reliable performances.

In late 2006, over 40 Golden Dragon buses, including the tailor-made XML6125J93, XML6113J93, XML6957J13, and XML6897J13 entered Tibetan tourism market and they successfully stood the test of time in the local market. Since then, Tibet Boda Tourist Transport Co., Ltd. and Lhasa Public Transport Company have purchased over 100 units of various types of travel coaches and city buses. Currently, the bus brand is taking the lead in Tibetan tourist transport market.

To date, Golden Dragon has fully adapted itself to the road and weather conditions in Tibet, which is also known as the world's roof.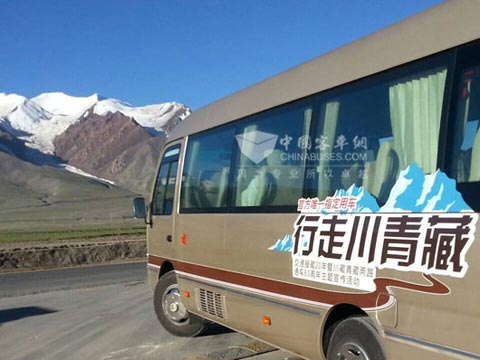 Source : www.chinabuses.org
Views:5282
Poster Press to save or share