Golden Dragon on Display at Chinese Commodities Exhibition in Kazakhstan
June 05,2014
www.chinabuses.org: From May 23 to 26, the twelfth Kazakhstan-China Commodities Exhibition made a grand opening in Almaty, capital of Kazakhstan. Golden Dragon brought three bus models, XML6125 low-access bus, XML6128 luxury tour coach, and XML6957 coach on display, making their debut in the Mid-Asian nation and attracting wide public and media attention. During the exhibition, a ceremony to celebrate the delivery of Golden Dragon buses to its local customer was also held. The two parties also signed a memorandum for strategic cooperation.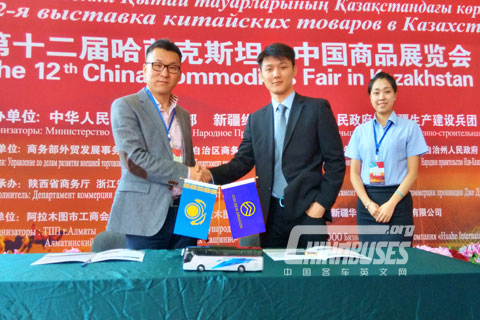 According to a salesman from Golden Dragon, the bus maker has successfully exported its city buses and intercity buses to Kazakhstan. To date, these buses have been in smooth operation in a number of major cities across the nation. Thanks to this, its customers are constantly placing new orders. Considering the unique geographic and demographic characteristics of all Mid-Asian nations, long-distance travel is indispensable in many people's lives in the region. In response, Golden Dragon has further optimized its bus models to meet the local climatic and geographic conditions. Equipped with whole body-frame structures, the three bus models boast even more spacious interior and luggage compartment, thus greatly enhancing their profitability. In addition, to adjust to the cruel winter there and make them more flexible, the vehicles have further enhanced their reliability by strengthening their chassis and optimizing the layout of various lines and tubes.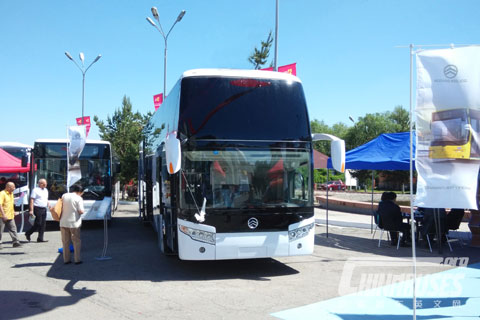 "Through technology innovation and quality control, we have realized providing customized products to our local customers. To expand its market presence and set up a good image for Chinese brand, Golden Dragon has been constantly upgrading its product line and improving their quality", Liu Sen, Director of Golden Dragon Mid-Asia & Russia Region told our reporter. Mr. Liu also added that the company only came to the Mid-Asian nation recently, but had been making steady progress there. So far, Golden Dragon has earned a good reputation among its customers thanks to its reliable quality and satisfactory services. He also pointed out that currently, most urban buses and travel coaches in operation are made by Russia or imported second-hand brands, like Man from Germany or Daewoo from South Korean.

While expanding its overseas market, Golden Dragon has paid very close attention to its after-sale services, which also explains its fast growth in the overseas market. So far, together with its local customers, the company has set up well-connected service network and spare parts center with Almaty as the center. In addition, the company has initiated brand new marketing strategies and innovated financial service channels so as to provide professional financing services to its agents across the globe, which further demonstrates its determination to accomplish even more in the Mid-Asian region and its other overseas markets.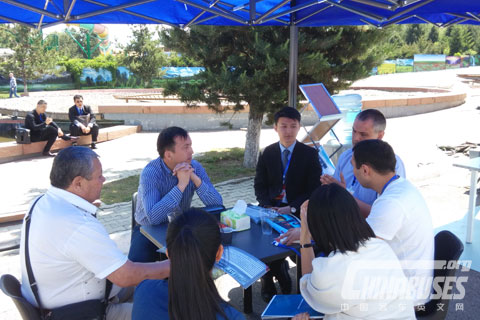 In 2013, Golden Dragon rolled out mid- and long-term financing services to its agent in Kazakhstan, which greatly enhanced its ability to win new orders from both its agents and end customers.

The twelfth Kazakhstan-China Commodities Exhibition held this year is co-organized by Ministry of Commerce, Government of Xinjiang Uygur Autonomous Region, and Xinjiang Production & Construction Corps. As a major trade platform between China and Kazakhstan, the exhibition has earned a good fame among the Mid-Asian nations.

Source : www.chinabuses.org
Editor : Dang
Views:4955
Tags: Golden Dragon Kazakhstan Chinese Commodities Exhibition
Poster Press to save or share