15 King Long Double Decker Buses Exported to San Diego
January 29,2013
www.chinabuses.org: On Jan. 22, 15
King Long XMQ6110GS
double decker buses were shipped in Xiamen Xiandai Port for San Diego, Chile. The buyer is the latest passenger transporter TURBUS, and the coaches will transport passengers from city downtown to the airport.
TURBUS, as the largest bus transport company in Chile, owns 2,000 buses, covering city buses, coaches and tourism coaches. The chairman of the bus company has visited King Long Bus in 2011, and he was impressed by the quality of King Long buses, and this is the first time for TURBUS to cooperate with China bus builders.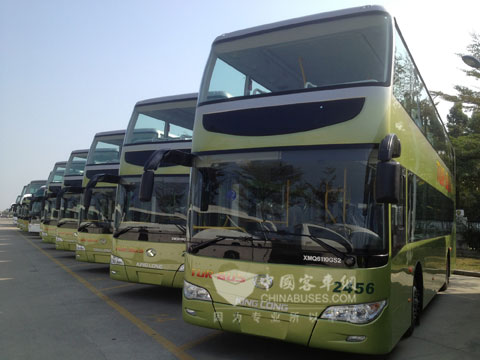 King Long XMQ6110GS
The XMQ6110GS is specially designed and manufactured for TURBUS Comoany featuring high performance-cost ratio, strong carrying ability and stable operation. The width of the bus is 2.55 meters, and there are more space inside the bus, and there are 72 seats, Cummins engines and ArvinMeritor axles can make sure safe and smooth operation of the buses.
But the successful order is not by chance. King Long started to enter Chile markets in 2007, and they won more and more orders and good reputation for their products' quality and careful after-sales services. And their sales of buses exceeded 100 units in 2012, taking the first position of the bus sales in Chile. King Long has more than 300 buses running across Chile.
Source : www.chinabuses.org
Editor : Eric
Views:3853
Poster Press to save or share