Metro Tourism to Buy Turkey's Bus Giant Varan
June 29,2011
www.chinabuses.org: Metro Tourism, one of the biggest Turkish bus and coach operators, will soon purchase Turkey's bus giant Varan, who is exiting the bus business to enter the tourism and hotel management sector reports Hurriyet Daily News.

The two groups recently signed a surprise memorandum and are expected to complete the agreement soon. Varan's management, which is the second generation running the business, said they would end their involvement in the bus business to continue with hotel management.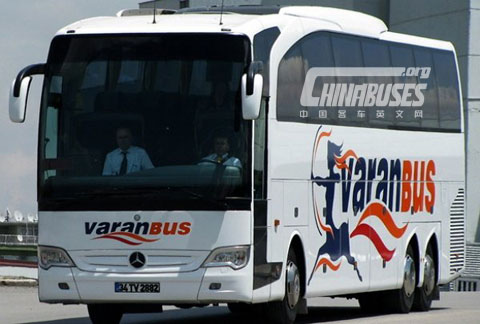 Rü?tü Terzi, former chairman of Turkey's Bus Businessmen Federation, or TOFED, will be appointed Varan's executive board chairman after the purchase, Metro representatives said.

Varan will continue as a separate organization and, other than the change in ownership, there will be no changes to the company, Terzi said. "Merging Metro with Varan is not an option. Investments and increases in capital will continue through a new management approach."

Some 230 new vehicles will be added to Varan's "vehicle fleet" after the final agreement, according to Terzi. He also said they aimed to increase Varan's number of passengers to 2.5 million in 2011 and 3.5 million in 2012. The company currently moves 1.5 million passengers a year.

Metro did not make the move due to competition with airline transportation, Metro's communications Director, Necmi Hatipo?lu, told journalists. "The perception of cheap air fares is not right. Domestic airline transportation has not been sufficiently developed in Turkey. Ninety percent of the transportation is made through land routes, thus we have no problems with competition against airline transportation."

Still, Metro is trying to increase the quality of its services.

Varan, which was founded in 1946, has 230 ticket offices across Turkey and employs more than 1,000 people. Apart from its domestic routes in the Marmara, Aegean, Mediterranean, Black Sea and Central Anatolia regions, Varan also runs 692 routes abroad in Austria, Bulgaria and Germany.
Source : www.chinabuses.org
Editor : Busworld
Views:4380
Poster Press to save or share