Zonda Luxurious BRT Buses Delivered to Yancheng
February 10,2011
www.chinabuses.org: Additional seventy Zonda YCK6128HC luxurious BRT buses were delivered to Yancheng on Jan. 29th, 2011, and these buses are bound to run on Yancheng BRT lines.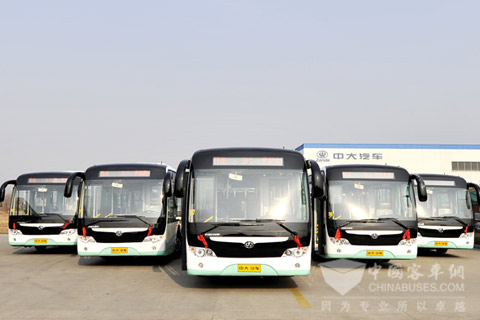 Zonda luxurious BRT buses

YCK6128HC is Zonda latest developed bus models. Adopted lightweight design and high strengthen materials can largely improve carrying capacity and reduce fuel consumption. This bus model boasts human-oriented designs in details. Environmental friendly, inflaming retarding and washable interior trimmings and multi-layers acoustic damping materials can ensure comfortable riding experience. Low-entrance and special BRT design can facilitate passengers to get on and off the bus to the utmost.
  
Zonda luxurious YCK6128HC BRT buses won general praises by citizens ever since the opening of BRT lines in Jiefang Road by its excellence quality, stable performance and service.

Source : www.chinabuses.org
Editor : Eric
Views:3624
Tags: Zonda bus BRT Yancheng
Poster Press to save or share