Golden Dragon Helps Bus Operators Diversify Passenger Transportation Business
September 06,2023
The passing summer has witnessed a surge of tourists across China, creating a huge demand for transportation services. To meet the surging transportation demands, Guilin Kaitu Transportation Co., Ltd. (hereafter referred to as Kaitu) bought 20 units Golden Dragon buses in March this year. "It (Golden Dragon) offered us a whole package of transportation solutions, saving us a great deal of troubles", said Qin Minghong, General Manager of Kaitu.
Since their arrival, Golden Dragon buses have been working smoothly. Their high energy efficiency and high quality standards have deeply impressed the bus operator, who is eager to strengthen its cooperation with Golden Dragon. Passengers have also been giving quite positive feedback to Kaitu.
Qin Minghong, who has a big vision for his company, also revealed that its entire bus fleet (nearly 100 units buses & coaches) have been working in full swing in July and August, the peak travel season. Apart from providing tourist transportation services, Kaitu also delivers commuting services for local government, schools and companies. Established in 2020, the company is committed to providing more tailor-made high-quality transportation services for passengers.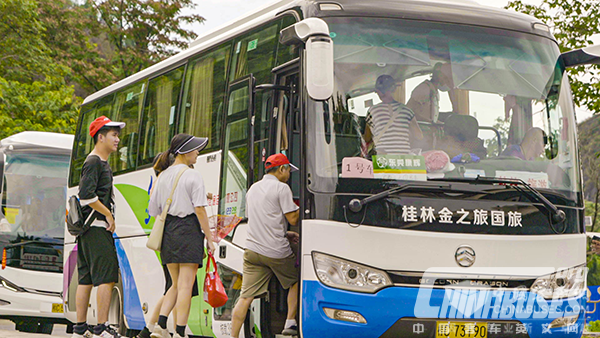 After going through COVID-19 pandemic, China's tourist market has seen tremendous changes, prompting bus operators and bus makers to work more closely and provide more personalized and more environmentally friendly transportation services.
Source : www.chinabuses.org
Editor : Lucy
Views:4896
Poster Press to save or share