Foton AUV Helps Chile Build the Largest Electric City Bus Fleet in South America
June 14,2023
On Jun. 8, Liu Wei, Deputy Party Secretary of the Standing Committee of CPC Beijing Municipal Committee, led a team and visited STP Santiago S.A., the leading provider of public transportation services in Chile. At Maipu District located in southwest of Santiago, the capital city of Chile, Liu Wei took a ride on a Foton AUV electric bus. At STP bus terminal in Maipu, facilities have been built to help 114 units electric buses get recharged at the same time.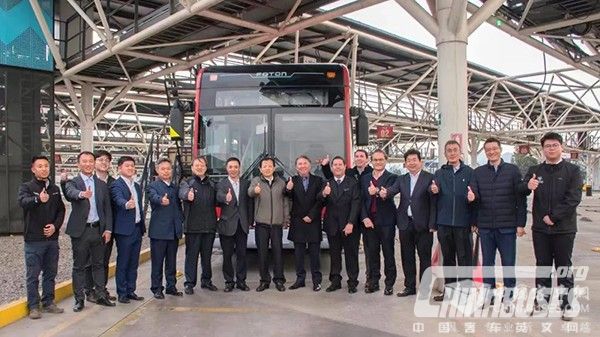 On the same day, BAIC Foton signed a cooperation agreement with its partner in Chile. According to the agreement, a training center will built soon in Chile to better train bus drivers and maintenance workers for electric buses.
Aiming to reach carbon neutralization in 2050, Chile started introducing electric city buses in 2019. In 2022, it placed an order of 1,022 units electric city buses on Foton AUV, the single largest electric bus order ever made from the overseas market. Currently, nearly 1,400 units Foton AUV electric buses are working smoothly in Chile. Thus, Foton AUV has pushed Santiago to the first place in South America in terms of the size of electric bus fleet.
Santiago Metropolitan Area, one of the most populous areas in Chile, is home to many commercial centers and administrative bodies. With 80% electric buses branded with Foton AUV in Beijing which boasts the largest clean and new energy bus fleet in the world, Foton AUV has a lot to offer to its customers in the overseas market.
As one of the leading bus makers in China, BAIC Foton officially launched its new energy vehicle development program in 2003. In 2008, it established BAIC Foton New Energy Vehicle Design & Manufacturing Base. In just two decades, the company has successfully developed a wide spectrum of new energy buses, putting hydrogen fuel cell buses and electric buses into commercial operation. Having already established a solid presence in many cities across China, BAIC Foton's new energy vehicles have gained great popularity in many countries across the world, including Chile, India, South Korea, New Zealand, Egypt, Malta, Australia, Mexico, etc.
Apart from its new energy buses & coaches, BAIC Foton light trucks and vans have obtained WVTA certificate from EU and made their way to Italy, Poland, Spain and other countries in Europe.
In Apr., 2023, BAIC Foton officially announced that it aims to increase its new energy vehicle business to more than half of its entire business. By 2050, it will realize carbon neutralization and become a leading player in the world's green transportation sector.
Source : www.chinabuses.org
Editor : Isabella
Views:6562
Tags: Foton AUV electric bus Chile South America
Poster Press to save or share