Golden Dragon Signs A Strategic Cooperation Agreement with Kazakhstan-based HTA
May 27,2023
On May 18 and 19, China-Central Asia Summit was held in Xi'an, Shaanxi Province, an event of striking symbolism, has taken the development of the China-proposed Belt and Road Initiative to a higher stage. Since the establishment of diplomatic ties between the two sides 31 years ago, China and Central Asian countries have gone through an extraordinary journey and secured achievements that attracted worldwide attention. In his speech, Chinese President Xi Jinping emphasized that China will work with the Central Asian countries to cooperate in a number of areas, such as public transport, agriculture and hi-tech.
While attending Kazakhstan-China Investment Roundtable Meeting in Xi'an, Kazakh President Kassym-Jomart Tokayev expressed his satisfaction with the growing ties between China and Kazakhstan in the auto industry, saying the deepening cooperation between the two countries is injecting new dynamics to the auto industry in his country.
At roundtable meeting, Golden Dragon signed a strategic cooperation agreement with Hyundai Trans Auto (HTA) based in Kazakhstan. According to the agreement, the two parties will work closely together to build Kazakhstan-China Auto Industry Technology & Engineering Training Center. After its construction, the new training center will effectively address the shortages of human resources in the auto industry in Kazakhstan.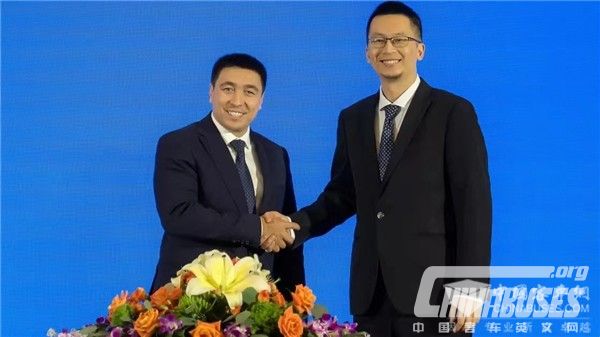 Golden Dragon Signs Strategic Cooperation Agreement with HTA
"Auto industry is growing robustly in Kazakhstan. By working together with Golden Dragon, we will have the essential resources to train young people and prepare them to become skilled workers that we desperately need", said Adilbek Gayev, General Manager of HTA.
In 2016, under the framework of Belt Road Initiative (BRI), Golden delivered 100 units city buses with customized public transportation solutions to Kazakhstan, helping the country improve its public transport network. Along with a fast growing popularity in the country, the bus maker secured major bus orders from the country in 2018. One year later, Golden Dragon's 18-meter city buses powered by natural gas officially started operation in Almaty, the largest city in Kazakhstan. With comfortable traveling environment and superb eco-friendliness, they soon won wide acclaims among passengers.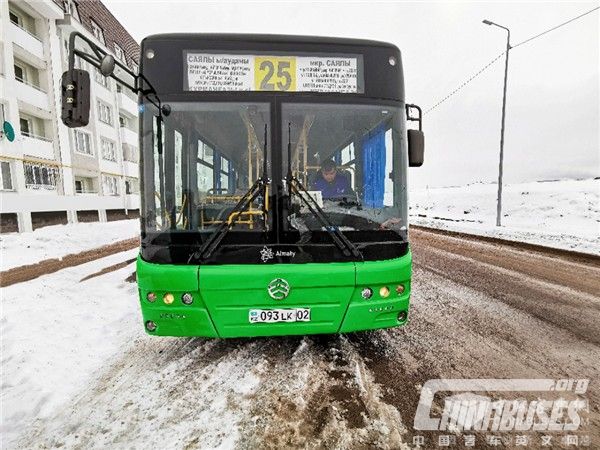 Golden Dragon 18-meter Natural Gas Bus Working Smoothly in Kazakhstan
To meet the fast growing demand for its buses and coaches in Central Asia, Golden Dragon launched a KD project in Kazakhstan. So far, the KD factory has assembled over 1,000 units buses & coaches for the market.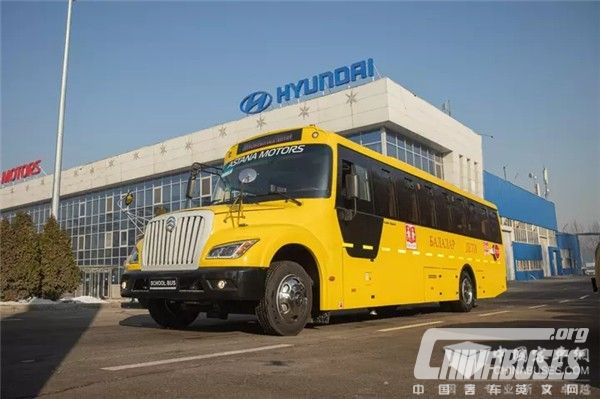 Golden Dragon School Buses in Kazakhstan
Since 2003, Golden Dragon has been making relentless efforts to strengthen its presence in the global market. China's Belt & Road Initiative, which launched a decade ago, creates unprecedented opportunities for the bus maker. In this new era, Golden Dragon will continue to seek sound and sustainable development through making technological innovation and developing greener public transport solutions.
Source : www.chinabuses.org
Editor : Lucy
Views:6290
Poster Press to save or share