200 Higer Luxury City Buses to Ethiopia
March 30,2023
Spring revitalizes the world. On March 29, the delivery ceremony of 200 Higer luxury city buses exported to Ethiopia, a country along the Belt and Road, was celebrated in Suzhou Industrial Park. Attendees included Jemalu, Deputy Mayor of Addis Ababa, Ethiopia and customers, Zhang Qiao, Deputy Mayor of Suzhou, Shen Weimin, Chairman of Suzhou Chuangyuan Investment Development (Group) Co., Ltd. ("Chuangyuan Group" for short), Chen Dulian, Secretary of the Party Committee and Chairman of Higer, Huang Shuping, General Manager of Higer, Qiu Yuanhong, Deputy General Manager of Higer.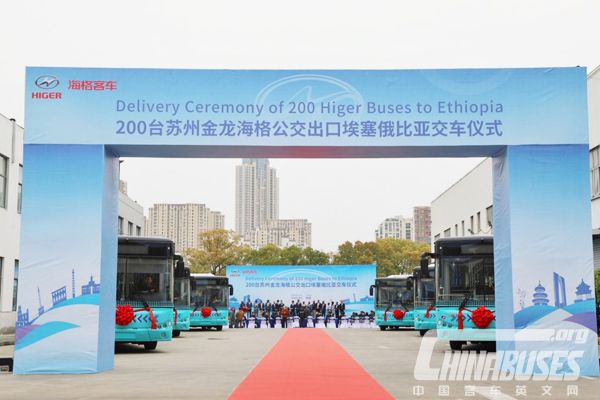 At the ceremony, Deputy Mayor Zhang Qiao presented Deputy Mayor Jemalu with a model of the Higer bus, and General Manager Huang Shuping handed over a certificate and a golden key symbolizing friendship and cooperation to the representative of customers. With the announcement of Chairman Shen Weimin, 200 Higer KLQ6129G luxury city buses were officially set off for Ethiopia.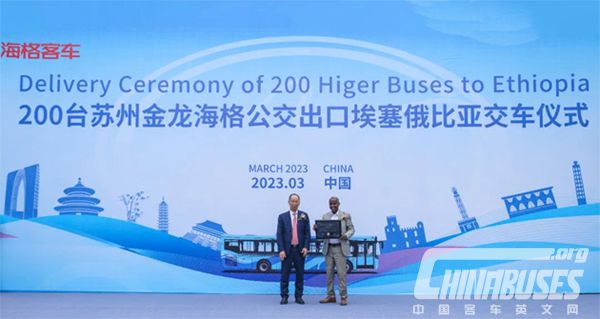 Deputy Mayor Jemalu said these city buses will be used to facilitate the travel of residents of Addis Ababa, the capital of Ethiopia, and help upgrade local public transport. Through the test ride over the past few days, he was very satisfied with Higer buses and believed that they will provide strong support for the establishment of a reliable, affordable, and perfect local public transport system.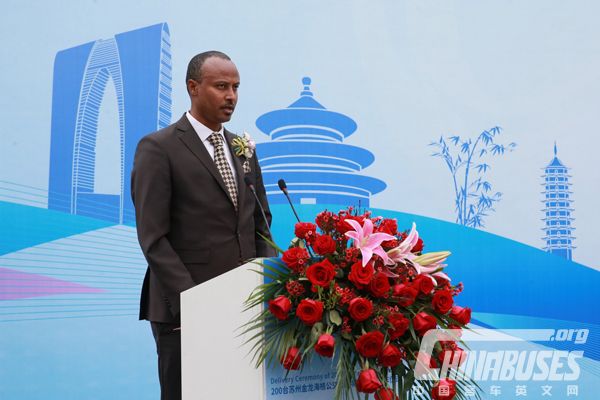 Deputy Mayor Zhang Qiao noted that he hoped the 200 Higer city buses delivered today could offer better public transport services to local people, help Ethiopia continuously improve its public transport equipment, and create a new model in this sector for African cities. He looked forward to a deeper partnership between Suzhou and Addis Ababa, asking the two cities to keep expanding their cooperation fields, achieve mutual benefit and win-win results, and work together to create a better future.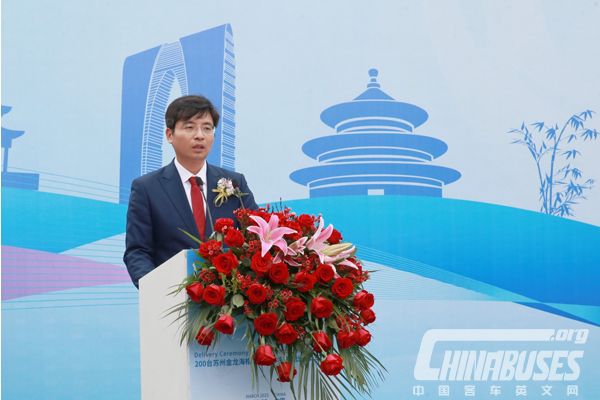 Ethiopia is located in East Africa. With a population of more than 120 million, it is the second most populous country in Africa. Capital Addis Ababa is the country's political, economic, and cultural center and houses the headquarters of the United Nations Economic Commission for Africa and the African Union. It is known as the "political capital of Africa" and has a unique political status. As an important country along the Belt and Road, Ethiopia has maintained rapid economic growth in recent years. It is one of the most economically dynamic countries on the continent, and China is its largest trading partner.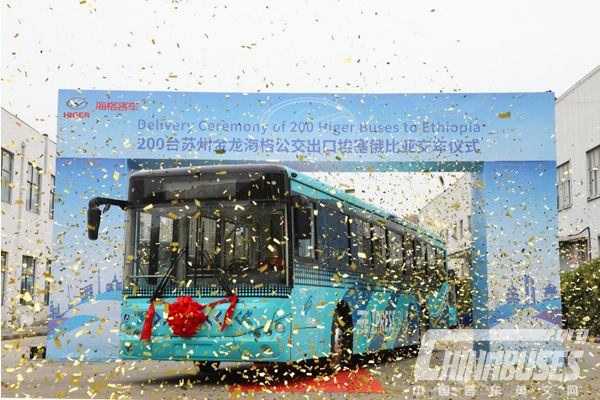 In 2007, Higer entered the Ethiopian market with "500 buses exported at a time", which are also the first big order of exporting China's buses to that country. Since that year, Higer has won the trust of local customers with high-quality products and good services, and its market share in Ethiopia's public transport has steadily increased. As of now, Higer has exported more than 1,000 buses to that country, establishing an excellent brand image and market reputation for "Made-in-China" products.
To actively respond to the Belt and Road Initiative and facilitate the export of products with advantages in the capacity, Higer has made a plan in advance, actively followed up the Ethiopian city bus project, and offered overall solutions for public transport operation to City Bus Enterprise. Finally, Higer stood out from many competitors in Ethiopia's global bidding project in 2022 and won an order of 200 city buses in one stroke. With excellent products, high quality, fast response and efficient services, Higer won the trust of the local government and users again.
On the basis of fully understanding the local vehicle operation environment and customers' operation demand, Higer has tailored the brand-new, luxury low-floor KLQ6129G city buses for Ethiopia after several rounds of product research in the early stage. The vehicle configuration and design were comprehensively upgraded to better suit the local operation environment in the capital Addis Ababa, which lies on a plateau and features a rainy climate. Equipped with an intelligent transportation system (ITS) and a panoramic imaging system, KLQ6129G city buses are more intelligent. They offer more convenient and comfortable experience to passengers with low floors, broad space, reasonably designed wheelchair areas, luxury soft seats and USB charging ports. The vehicle chassis is equipped with the electronically controlled air suspension (ECAS) system and the electronic brake system (EBS), and underseal is applied to further enhance the safety of the vehicle and ensure the strong power of the vehicle when driving in high-altitude areas. The 200 KLQ6129G city buses exported to Ethiopia this time will effectively help elevate the local public transport development to a new level.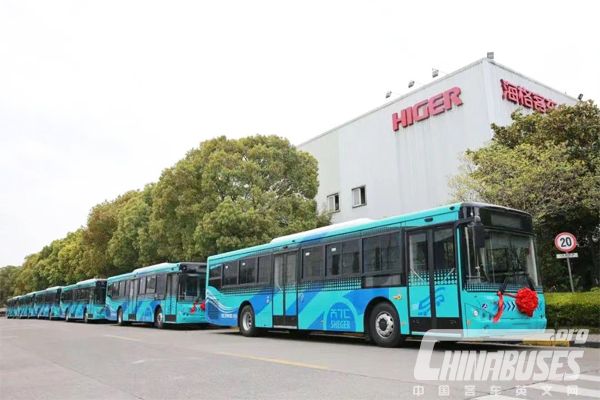 Winning this order from the Ethiopian government is an inevitable result of Higer's insistence on technological innovation and product upgrading for years, and its cultivation of and continuous exploration in this foreign market. Looking ahead, Chen Dulian, Secretary of the Party Committee and Chairman of Higer, said that the company will actively respond to China's Belt and Road Initiative and development requirements of "peak carbon emissions and carbon neutrality", embark on an international path with the company's characteristics by virtue of excellent quality and services, and provide strong impetus for China's buses to all the world.
Source : www.chinabuses.org
Editor : Higer
Views:8437
Poster Press to save or share