Ankai A6 Coaches Serve World Manufacturing Convention 2022
September 26,2022
On Sept. 20, World Manufacturing Convention (WMC) 2022 was held in Hefei, Anhui Province. Ankai A6 coaches were designated as the official carriers for the high-profile event.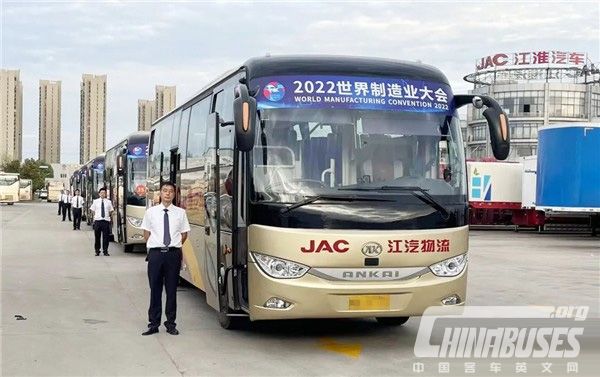 Ankai A6 coach is equipped with a host of advanced technologies, including an integral chassis, large-span front and rear axles, six-airbag suspensions, Ankai Intelligent Management System, a front collision protection system, an alarming system to prevent driving fatigue, a tire monitoring system, a panoramic view system, a lane deviation system, an alarming system for front and rear collision, etc.
The ergonomic seating plan and the modern lighting concept on Ankai A6 coach make its interior particularly inviting. In addition, its passenger area has such feel-great factors as optimized NVH and an interior management system.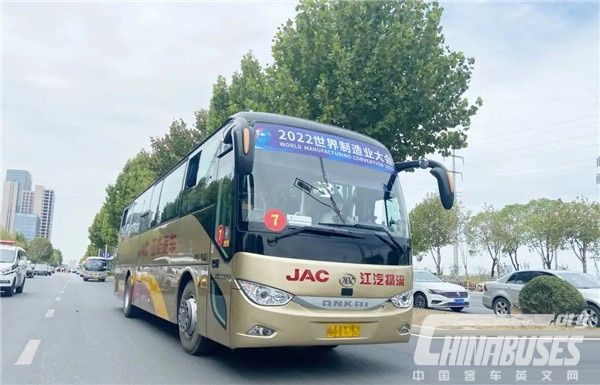 Since the first WMC which was held in 2018, Ankai has been serving the convention for five consecutive years. As one of the major players in the automobile industry in Anhui province, Ankai is fully committed to promoting sustainable development for the public transportation sector. Thanks to their amazing reliability and sustainability, Ankai buses and coaches have so far served at a number of high-profile events, including China's annual "two sessions", G20 Summit in Hangzhou, Forum on China-Africa Cooperation (FOCAF), etc. In addition, they have successfully established their presence in nearly 100 countries and regions across the world. In March this year, 800 units Ankai buses, the largest ever bus import from China, arrived in Mexico for operation.
Source : www.chinabuses.org
Editor : Isabella
Views:5219
Poster Press to save or share