Higer Electric Double Decker Bus: A Greener Transportation Solution for City Tours
September 01,2022
With the fast growing city tours in recent years, Higer recently developed an electricity powered double-decker to provide a greener transportation solution. Recently, Higer electric double-deckers officially started operation in Wanzhou District, Chongqing, allowing city tourists to enjoy urban views on the move.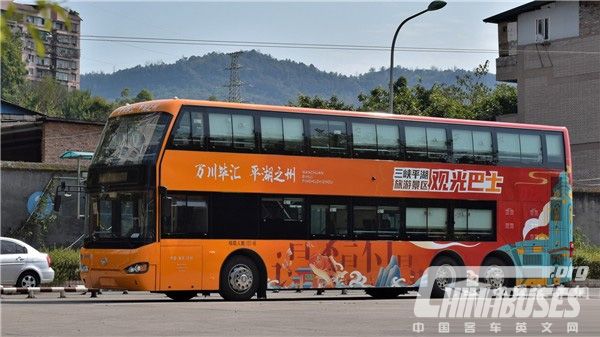 Measuring 12.3 meters in length and 4.1 meters in height, Higer electric double-decker is 1.88 meters high on its first floor and 1.72 meters high on its second floor. With large windows, tourists can enjoy great urban views while traveling across the urban area.
By gaining a full knowledge of customer's special needs and requirements, Higer electric double-decker has a host of travel amenities on board, including USB portals, a water dispenser, a slot machine, leather seats, wood-like floors, curtains, cup holders, etc.
As one of the leading players in China's bus-making industry, Higer is committed to providing greener transportation solutions for city tours. So far, its city tour buses and double-deckers have made their way to many cities across China. They work smoothly in Shanghai Disneyland, Guangzhou Changlong Zoo, and on Suzhou city tour bus routes and Chongqing city tour bus routes. In addition, they have been exported to Russia, Iceland and Lebanon, etc.
Located in the northeast of Chongqing, Wanzhou District is renowned for its unique cityscape. In recent years, it has been attracting a growing number of tourists from all over China. To fully showcase its beauty and provide travelers unique travel experiences, Wanzhou placed an order of electric double-deckers on Higer.
Source : www.chinabuses.org
Editor : Mark
Views:9791
Poster Press to save or share