King Long Won Fujian Provincial Science & Technology Advance First Prize
March 07,2022
On February 24, Fujian Provincial Government officially revealed the winners of Fujian Provincial Science & Technology Advance First Prize. Xiamen King Long United Automotive Co., Ltd. (hereafter referred to King Long) was among them for its development of the key parts of high-performance hydrogen fuel cell buses and their industrialization.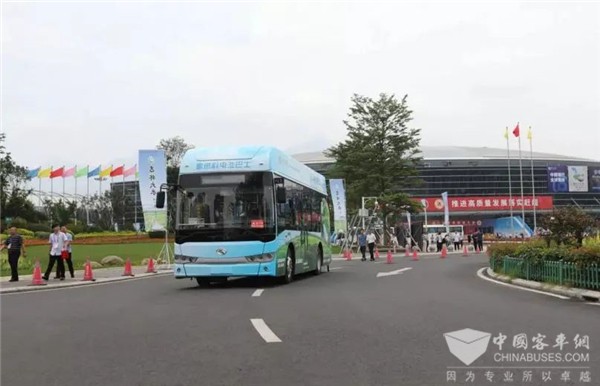 Since 2010, King Long has been making relentless efforts to develop hydrogen fuel cell buses and has made several major technological breakthroughs. In 2016, its 12-meter hydrogen fuel cell city bus officially rolled off the production line. One year later, its hydrogen fuel cell bus won the approval of China's Ministry of Industry and Information Technology (MIIT) for commercial operation, marking a new milestone for the bus maker. In 2019, 2020 and 2021, King Long hydrogen fuel cell buses started operation in Fujian, Jingshan (Hubei province) and Jinhua (Zhejiang province), greatly promoting greener public transport in the domestic market. Also in 2021, King Long secured a deal with Zhangjiakou Municipal Government and Yite Zhihang Technology (Guangzhou) Co., Ltd. and the three parties agreed to build Yilong Intelligent Hydrogen Commercial Vehicle Production Base in Zhangjiakou.
To further enhance the overall safety standards of hydrogen fuel cell buses, King Long developed active safety & protection technologies (collision alarm, rollover alarm, drive-in-water monitoring, fire alarm, high-voltage protection, hydrogen leakage control) and passive safety & protection technologies (special fire extinguishing device for battery cases, improved design for the anti-collision of hydrogen tanks, hydrogen leakage alarm, smoke alarm).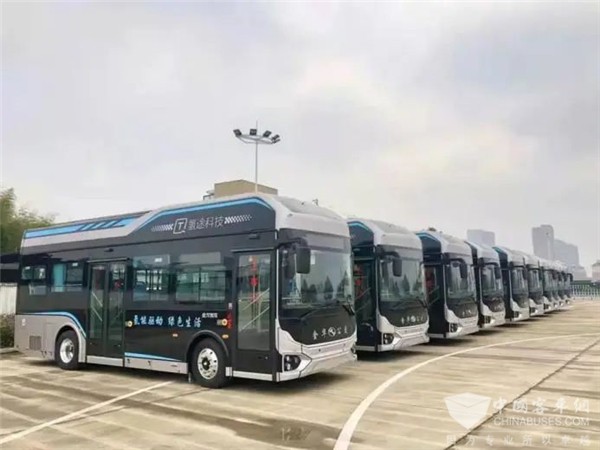 To improve their reliability, King Long hydrogen fuel cell buses are equipped with Eco-3.0 control systems, hydrogen-electricity one-button conversion, electricity-hydrogen coupling technology, energy distribution control technology and fuel cell intelligent control. In addition, through modular design for fuel cell systems, King Long has realized quick installation of fuel cell systems on different bus models. Currently, hydrogen fuel cells can reach a life expectancy of over 15,000 hours and allow buses to drive smoothly and reliably for much longer period of time.
King Long's system integration technology has enabled the close collaboration of key systems on hydrogen fuel cell buses, including fuel cell systems, hydrogen supply systems, water & heat management system, power systems, electric control system, etc. By optimizing the structure of key spare parts and upgrading the control methods, King Long has built more integrated R&D network for hydrogen fuel cell buses, successfully cut their body weight and improved their performances.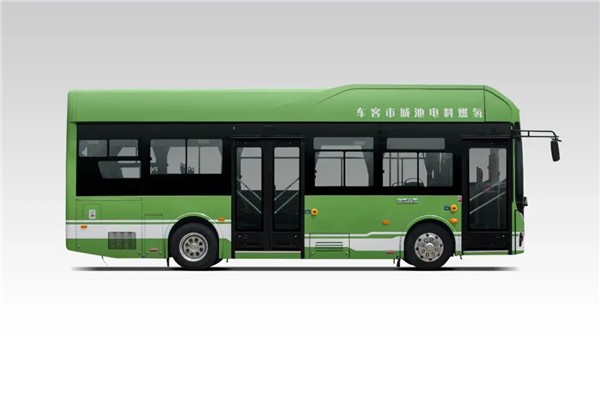 King Long 12-meter hydrogen fuel cell bus has a rated power of 65 kW and is able to drive 800 km continuously under experimental working conditions. For every 100 km, the bus consumes 6.6 kg hydrogen. When temperature drops to -30℃, it can still work smoothly, allowing it to reach all major cities across China.
As one of the leading players in the bus making industry, King Long has been actively promoting the standardization of industrial technologies related to hydrogen fuel cell buses. As a member of China Hydrogen Fuel Cell Vehicle Testing & Evaluation Working Group, King Long has been working closely with other major enterprises and has rolled out JT∕T1342-2020 hydrogen fuel cell bus technology standards and TCSTE120-2021 "Leader" Standard & Evaluation Requirements.
Source : www.chinabuses.org
Editor : Mark
Views:4882
Poster Press to save or share