Ankai A8 Coaches Delivered to Nanjing for Operation
January 05,2022
On December 31, a batch of Ankai A8 coaches were officially delivered to Nanjing Hengguang Tourist Transportation Co., Ltd. (hereafter referred to as Nanjing Hengguang).
Measuring 12-meter in length, Ankai A8 adopts a monocoque body structure with reinforced and light-weight materials. It achieves impressively powerful performances, higher fuel economy and higher safety standards. Its advanced internal management system helps the coach ventilate its air more efficiently and thus creates a more comfortable traveling environment for passengers.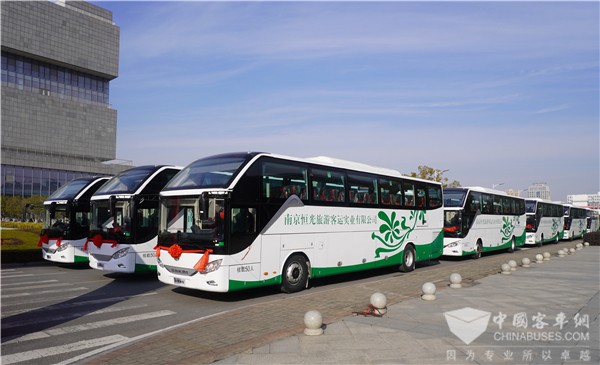 In addition, Ankai A8 coache is equipped with intelligent management system, fatigue driving alarming system, tire pressure monitoring system, panoramic viewing system, lane deviation alarming system, front collision alarming system, etc. So far, the coach has already earned a solid presence in the high-end passenger transportation market.
According to Ankai, A8 coach currently has three power drivelines available (diesel, gas and electricity) to suit the varied needs of bus operators.
Due to various challenges posed by COVID-19, Nanjing Hengguang has been seeking a new path for its development, strengthening its presence in the commuting service market and tourist transportation market.
Before the delivery of Ankai A8 coaches, the bus maker also delivered A6 coaches to Nanjing Hengguang.
Source : www.chinabuses.org
Editor : Lucy
Views:3291
Tags: Ankai A8 tourist bus China buses
Poster Press to save or share