King Long's Hydrogen Powered Commercial Vehicle Production Base Starts Construction in Zhangjiakou
May 17,2021
On May 9, Xiamen King Long United Automotive Industry Co., Ltd. (hereafter referred to as King Long), Yite Zhixing Technology (Guangzhou) Co., Ltd. and Zhangjiakou Municipal Government signed a cooperative agreement in Zhangjiakou. On the same day, Zhangjiakou Yilong Intelligent Hydrogen Powered Commercial Vehicle Production Base officially started its construction, marking a huge step forward for the city's ambitious drive to build itself as a model city for the commercial application of hydrogen energy.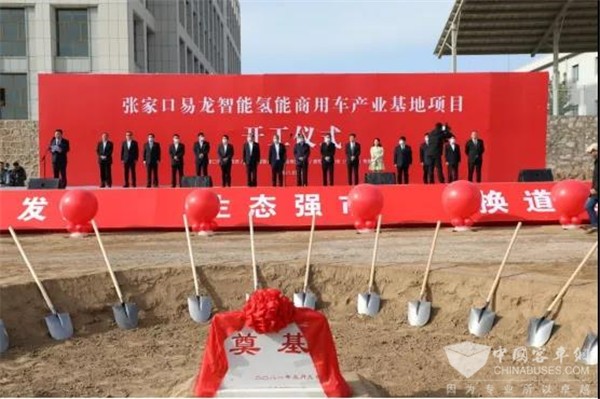 Covering an area of 600 mu, the production base will be built in two phases. After the completion of the first phase, it is able to produce 1,500 units hydrogen powered commercial vehicles (city buses, travel coaches, logistic vehicles, sanitation vehicles) each year.
"As we are now making full preparations for 2022 Winter Olympic Games, we aim to greatly promote the hydrogen energy related industries in our city, which will surely inject new dynamics to our economic development", said Wu Weidong, mayor of Zhangjiakou.
According to Liu Zhijun, General Manager of King Long, its new production base will be devoted to designing, developing and manufacturing high-end intelligent commercial vehicles, promoting low-carbon transportation among the the public.
With huge market potentials, hydrogen energy industry has been witnessing a robust growing momentum in recent years. In China, hydrogen powered fuel cell vehicles have already made huge progress, realizing commercial operation and gaining fast growing popularity among passengers.
As one of the pioneers in developing hydrogen powered vehicles, King Long has already accumulated rich experience in this promising field. By closely working with its partners, it aims to help cities across the world cut carbon emissions and achieve carbon neutrality.
Source : www.chinabuses.org
Editor : Mark
Views:5427
Tags: King Long Hydrogen bus
Poster Press to save or share