King Long Rolls Out China's First Carbon Fiber Composite BMT Bus
April 29,2021
On April 26, 2021 Shanghai Cooperation Organization International Trade Fair & Shanghai Cooperation Organization Regional Cooperation on Trade & Economy Qingdao Forum was held in Qingdao.
Together with its cooperative partners, including Zhejiang Tsinghua Yangtze River Delta Research Institute, etc., King Long successfully developed China's first carbon fiber composite BMT bus, marking a significant breakthrough for the bus manufacturing industry.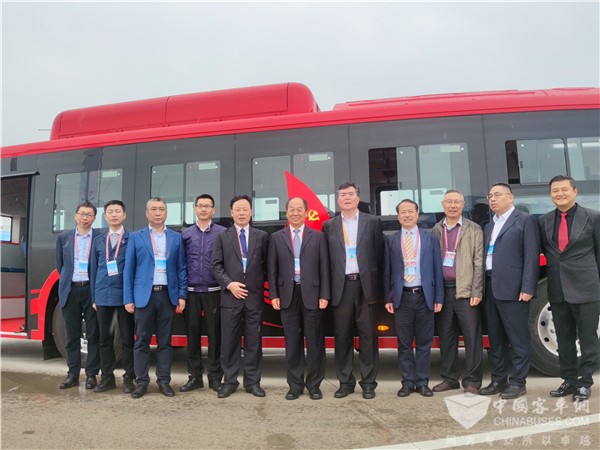 In recent years, the bus industry has been taking on new and exciting directions, including developing greener new energy drivelines and energy-saving light weight body structures. Carbon fiber composite materials, which emerged in 1960s and 1970s, have been increasingly applied in aerospace industry, etc. With the maturity of the new technology, the time has come when the material can and should play a more crucial role in the bus industry.
King Long carbon fiber composite BMT bus, using 100% made-in-China carbon fiber composite materials, has successfully cut its body weight and is now ready for commercial operation. In addition, it has incorporated four major ground-breaking technologies, leading the greener and more energy efficient development of the bus industry.
"The (King Long carbon fiber composite BMT) bus is truly revolutionary as it has successfully introduced the once expensive carbon fiber composite materials to the bus industry", said Wang Honghai, deputy director of Zhejiang Tsinghua Yangtze River Delta Research Institute.
According to Wang Daofu, the General Manager in charge of developing King Long carbon fiber composite BMT bus, the new bus adopts wheel-rim independent suspension driving system and has cut its weight by 2,600-3,000 kg. With much more spacious standing room, it has substantially slashed energy consumption. King Long Eco-Chip 3.0 management system enables the bus to provide safer, more efficient and more comfortable travel experience for passengers.
According to King Long, 10 units carbon fiber composite BMT bus are scheduled to hit the road before July 1 this year. By the end of this year, 100 units such buses will be delivered to their customers for operation.
For years, King Long has been actively involved in promoting low carbon travel. Through developing and marketing new energy vehicles for over two decades, it has been playing a pivotal role in helping cities build greener public transport networks.
Source : www.chinabuses.org
Editor : Mark