Golden Dragon Continues to Strengthen its Presence in Changdu
April 27,2021
In late March, Golden Dragon sent a special team comprising technicians, after-sales service engineers and marketing personnel to Changdu, Tibet. Immediately after their arrival, the team started holding training sessions, conversations with the local bus operator and bus drivers. They also went to bus terminals and bus stops to address the problems and concerns raised by the local bus operator and drivers.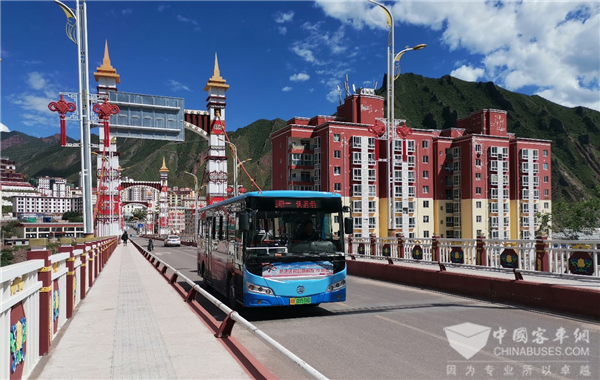 "We are very grateful for Golden Dragon's help. The team has offered us tremendous help", said Deng Jianqing, General Manager of Changdu Public Transport. Since their arrival, Golden Drag electric buses have been running smoothly for over three years, becoming the most important means of transportation for local resident. "Our longest bus route is about 40 km in one way. In the past, people had to spend 200 RMB to take a taxi, but now they only pay 2 RMB for the entire trip. Passengers over 55 are all qualified to take the bus for free and people with smart phones can easily get the information about the bus arrivals", Deng added.
According to the person in charge of Golden Dragon's business in Tibet, Xie Siyu, Deputy General Manager of Fujian Automobile Industry Group & vice president of Xiamen King Long Motor Group, Peng Dongqing, president of Golden Dragon, paid a special visit to Changdu in August, 2020. As a part of Fujian province's aid program to Tibet, Golden Dragon aims to help Changdu build greener public transport network and establish efficient and skilled bus management team.
With an average altitude of over 3,500 meters above the sea level, Changdu is located in the east of Tibet. The city did not have its own public transport network untile April, 2018. With the help of Golden Dragon, the city introduced electric buses and quickly mapped out bus routes, established a service network and a bus management team. On November 1, 2018, Golden Dragon officially handed over 20 units 7-meter electric Kast city buses to Changdu, ushering a brand new era for the city.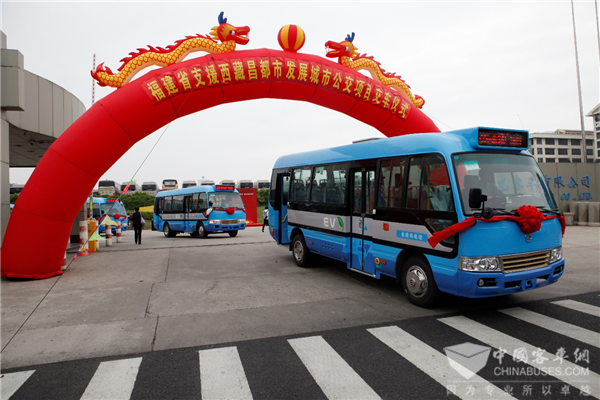 In August, 2019, Fujian province donated the second batch of new energy buses, six units 8-meter electric buses to Changdu. In preparation for their smooth operation, three experienced officials were sent to the city, helping the local bus operator design new bus routes and improve their overall corporate management. A smart phone application was also developed so that people can obtain information about bus locations and save their waiting time.
On August 19, 2020, 24 units Golden Dragon 8-meter electric city buses, all of which were jointly donated by Fujian, Tianjin and Chongqing, were handed over to Changdu. On the same day, the city opened three new bus routes and the smart phone application was officially launched for local passengers.
Source : www.chinabuses.org
Editor : Lucy