Golden Dragon Coaches Fully Prepared to Serve China's Two Sessions
March 04,2021
Recently, Golden Dragon has been making full preparations for the forthcoming National People's Congress and Chinese People's Political Consultative Conference, also known as the two sessions. According to the bus maker, 39 units Golden Dragon Navigators will be put into service and a special after-sales service team will be stationed in the capital to ensure the smooth operation of all Navigators.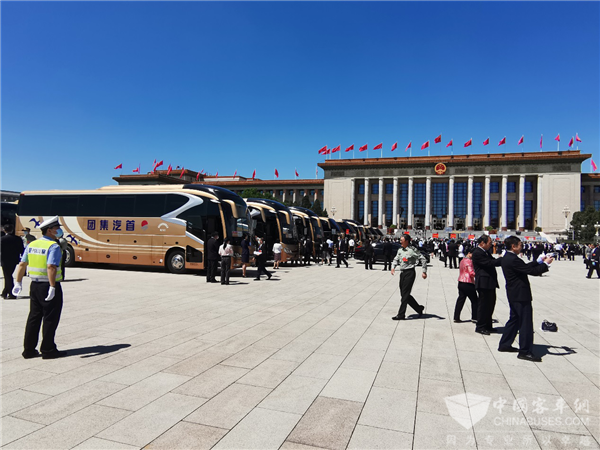 Since its debut, Navigator has won a number of highly-coveted awards, including The Best Coach and Good Design Awards, etc. In addition, it is among the first batch of buses & coaches to obtain Five Star Safety Vehicle status. So far, the coach has served a number of high-profile events in China, including Belt & Road Forum for International Cooperation, Asia Civilization Dialogue Conference, etc.
"Since late January this year, we have been making plans and conducting health check-ups with our vehicles", said Huang Suihong, General Manager of Golden Dragon After-sales Service Beijing.
Since 1998, Golden Dragon has been serving the high-profile two sessions for 24 consecutive years, fully showcasing its high quality products and timely after-sales services. With an impeccable service record, the bus maker has long established a solid reputation among delegates from all over China.
Being able to serve China's two sessions has always been considered as an honor and a full recognition of their products by bus makers. "We are fully aware of the importance of our role and we only pick the best quality coaches for the two sessions", said Gao Jie, General Manager of Shouqi Group, one of the leading bus operator in the capital city.
Source : www.chinabuses.org
Editor : Mark
Views:4239
Poster Press to save or share