British Ambassador Speaks Highly of BYD Electric Double Decker Buses
November 17,2020
On November 13, British Consulate-General in Guangzhou, BYD and Shenzhen Bus Group held a grand ceremony to mark China-UK' cooperation which is themed with "zero-emission, green travel". The event is aimed at attracting more public attention and mobilize more people to take concrete actions to join the battle against climate change. The event is also in line with the upcoming 26th UN Climate Change Conference (COP26). The newly appointed British Ambassador, HMA Caroline Wilson CMG, attended the event.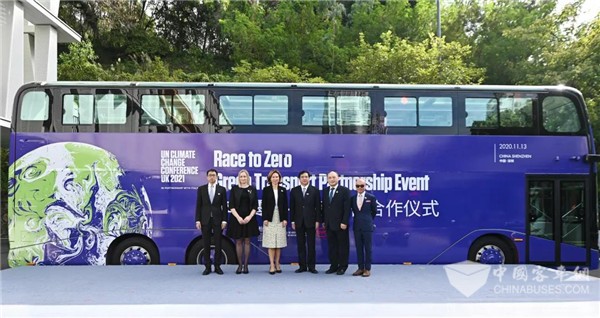 At the ceremony, Ambassador Caroline delivered a keynote speech, pointing out that Shenzhen has been playing a pilot role in cutting carbon emission in public transportation sector. By working closely with BYD, Shenzhen Bus Group has built a public transport network powered by electricity. "The impressive achievements made by BYD and Shenzhen Bus Group show the world the new possibilities of carbon-free traveling", said Caroline. After taking a ride on BYD electric double-decker, the ambassador spoke highly of the vehicle.
"In response to UN Climate Change Initiative, BYD has been actively involved in promoting electric vehicles. As early as 2010, it rolled out electric urban public transportation solutions, which aim to build carbon-free public transportation network across the globe", said He Yipeng, General Manager of BYD Europe Co., Ltd. In the past three years, BYD successfully put electric city buses, taxies, construction waste transportation trucks in commercial operation in Shenzhen.
Dai Bin, President of Shenzhen Bus Group, revealed by introducing BYD electric taxies and buses, the company cuts its annual carbon emissions by 570,000 tons, emissions of various other pollutants by 2,309 tons, and saves energy by 200,000 tons of standard coals each year. As a member of UITP, Shenzhen Bus Group has maintained ever growing ties with World Bank, UN, EU and other international organizations to promote electricity powered public transportation solutions.
According to sources, COP26 will be held in Glasgow, UK in November, 2021. As the rotating chair nation, UK has been actively participating "Race to Zero" and "Zero Emission Vehicle Campaign", two major programs which aim to help the global's transportation sector decouple with carbon and speed up the transition to zero-carbon economy.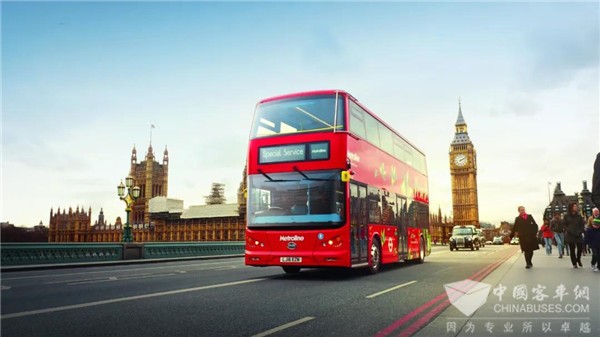 BYD established its branch in the UK in 2012. Three years later, it inked a strategic cooperation agreement with the well-renowned bus maker Alexander Dennis (ADL) based in the UK. The electric buses, jointly developed by the two companies, now boast an accumulated mileage of over 16 million km, helping cut carbon emissions by 17,000 tons. So far, over 400 units BYD electric buses have been put into operation in over 10 cities across the UK, helping them combat global warming.
With the unstoppable trend to greener transportation services, BYD will continue to deepen its cooperation with bus makes and operators in the UK.
Source : www.chinabuses.org
Editor : Mark
Views:5257
Poster Press to save or share