BAIC Foton Joins Hands with AVIC MTI to Develop Hydrogen-powered Vehicles
October 22,2020
On October 14, BAIC Foton Automobile Co., Ltd. (hereafter referred to as BAIC Foton) and AVIC Manufacturing Technology Institute (hereafter referred to as AVIC MTI) officially signed a strategic agreement for cooperation. According to the agreement, the two parties will deepen their cooperation in developing hydrogen powered vehicles and making technological innovations in the hydrogen technologies.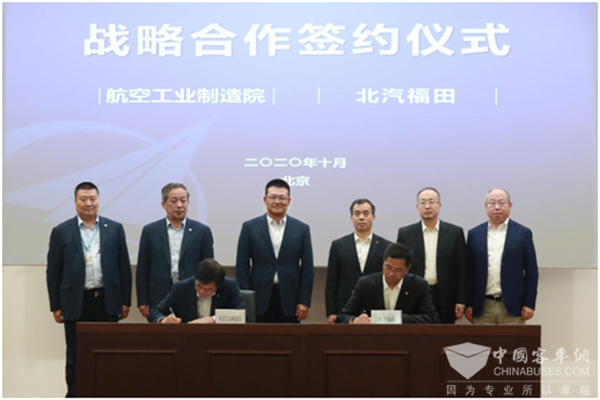 By taking full advantage of their respective strengths, BAIC Foton and AVIC MTI will mainly carry out cooperation in such areas as designing fuel cell vehicles, developing composite materials, researching & developing hydrogen supply systems on vehicles, developing light-weight vehicles and reducing production costs of fuel cell vehicles. Through joint efforts, the two parties aims to build a full industrial chain for fuel cell vehicles and promote their application and the sustainable development of the industry.
Zhang Xiong, General Manager of BAIC and President of BAIC Foton, expressed his full confidence in the two parties cooperation, saying BAIC Foton has already built a full industrial chain for developing and manufacturing buses, light trucks and heavy-duty trucks. Its 8.5-meter, 10.5-meter, 11-meter, 12-meter fuel cell buses, 8-ton logistic fuel cell vehicles, etc. have all realized commercial operation in such sectors as urban public transportation, tourist transportation, commuting services and urban logistic services. Recently, 89 units newly built Foton AUV fuel cell buses officially joined the bus fleet to serve 2022 Beijing Winter Olympic Games. In addition, BAIC Foton has also won China Automobile Industrial Technological Advance First Prize.
Source : www.chinabuses.org
Editor : Lucy
Views:6589
Poster Press to save or share