Yinlong New Energy Buses Arrive in Leshan for Operation
September 14,2020
On September 10, a batch of Yinlong new energy buses arrived in Leshan for operation, providing greener and more convenient travel services for local citizens. Put on the bus route between Haitang Square and Leshan High-speed Railway Station, Yinlong new energy buses are set to play a key role in the urban areas in Leshan.
Measuring 13.7 meters in length, Yinlong new energy bus adopts low-floor access and is able to load 120 passengers at most. With spacious room, the bus is particularly designed for bus routes with heavy passenger flow.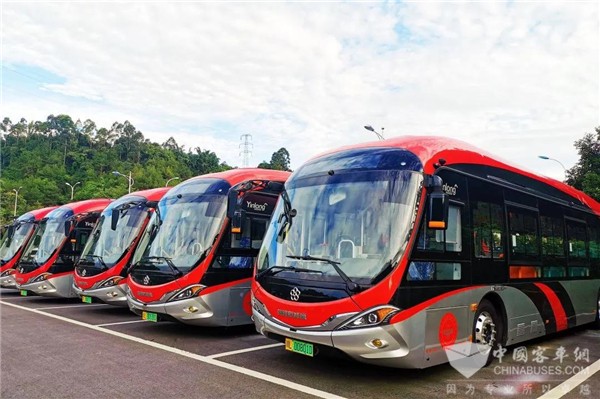 To prevent passengers from taking any dangerous items on board, the bus is equipped with a detector at its entrance. In addition, the bus is mounted with ultra-violet-ray-proof heat-insulating glass and ergonomically designed seats, creating a more comfortable traveling environment for all passengers.
Home to a number of well-renowned industrial enterprises, Leshan boasts such tourist attractions as Emei Mountain and Leshan Giant Buddha. With a huge number of tourists traveling to the city every year, Leshan has been making great efforts in recent years to further improve its urban image. With a uniquely streamlined body structure, Yinlong new energy buses have already become a real eye-catcher in the urban landscape in the city.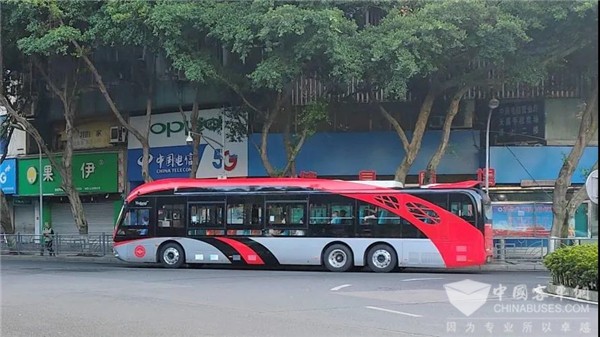 Yinlong is fully committed to providing more passenger-friendly and more environmentally-friendly public transportation solutions for cities across the world. So far, Yinlong new energy buses have already made its presence in Beijing, Nanjing, Hangzhou and Luoyang, etc., playing an essential role in local public transportation network.
Source : www.chinabuses.org
Editor : Mark
Views:5801
Tags: Yinlong new energy bus
Poster Press to save or share