Sunlong Attends Two High-profile Exhibitions in Shanghai and Nanning
September 25,2019
Recently, the 21st China International Industrial Exhibition and the 16th China-ASEAN Expo were officially kicked off in Shanghai and Nanning. Shanghai Sunlong Bus Co., Ltd. (hereafter referred to as Sunlong), which boasts production bases in both Shanghai and Guangxi, brought its latest new energy buses on display at the two high-profile exhibitions.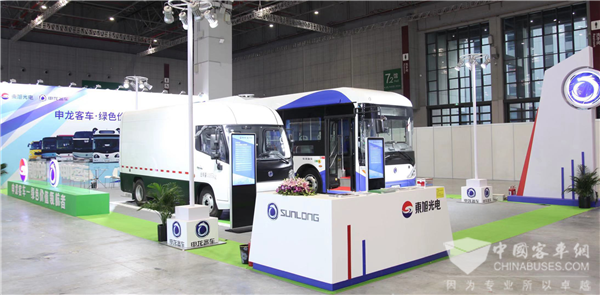 At the 21st China International Industrial Exhibition in Shanghai, Sunlong displayed SLK6101 fuel cell city bus and SLK5042 electric cargo truck, fully demonstrating its formidable strengths in the new energy vehicle industry.
Headquartered in Shanghai, Sunlong has witnessed the miraculous growth of the cosmopolitan and actively involved in building faster and greener public transportation networks there. In addition, it has served all major events held in the city, such as China International Import Exhibition (CIIE) and Shanghai World Expo.
Southeast Asia is one of Sunlong's major overseas markets. Take Thailand for example, the bus maker is the country's leading bus brand with the total imports of Sunlong buses each year account for 80%-90% of Thailand's total bus imports from China. At this year's China-ASEAN Expo, Sunlong brought its intelligent city bus, SLK6129 fuel cell city bus, SLK5042 cargo truck on display.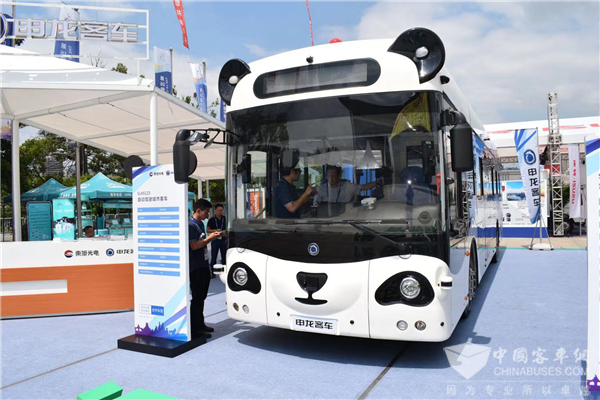 Sunlong intelligent city bus, jointly developed by DeepBlue Technology (Shanghai) Co., Ltd. and Sunlong, possesses a panda face and is equipped with a number of state-of-art technologies. Currently, the bus has already obtained operation permit from Shanghai, Guangzhou and Wuhan, etc. Having incorporated the latest 5G technologies, the bus is soon to hit the road in several major cities across China.
In 2007, Sunlong started developing fuel cell buses. In just a decade, it has already made impressive achievements in this promising field. This year alone, it successfully secured orders of fuel cell buses from Zhangjiakou and Shanghai.

Source : www.chinabuses.org
Editor : Lucy
Views:6016
Tags: Sunlong
Poster Press to save or share