HIGER Double Decker Buses Serve World Cup Fans
July 09,2018
FIFA World Cup 2018 is in full swing and attracting worldwide attention. On the pitches, players are fighting for glory with sweat and wisdom; in the stands, fans from around the world are cheering for their favorite teams; outside the stadiums, HIGER buses are operating across Russia boosting the globalization of Chinese independent brands.
As the best selling Chinese bus brand in Russia, HIGER carrying the passion and dreams of fans from around the world was a brilliant highlight during the World Cup. Particularly, HIGER double-decker bus with gorgeous appearance and high riding comfort became a bright star in the sightseeing industry.
HIGER double-decker bus, developed for Moscow's sightseeing market, has elegant appearance. With ample open space in the upper deck, it facilitates sightseeing and meets the needs of rain proofing and winter heat preservation. The newly-developed upper deck is almost fully open, with its seats and side windows removed temporarily within only two hours. Nicknamed a mobile show platform by customers, it is a preferred bus for parades and celebrations.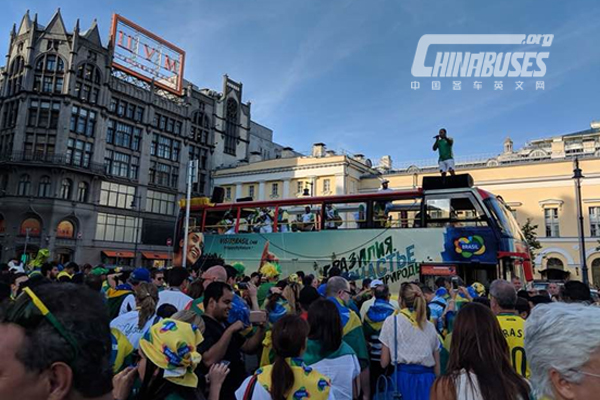 HIGER double-decker buses are distributed in Moscow, St Petersburg, Kazan and Sochi. In Moscow, HIGER double-decker buses are operating in two lines around the Red Square, passing attractions like the Red Square, Bolshoi Theatre, State Duma Building and Pushkin Square. The red buses symbolizing the passion of the Russian people, have met the needs of citizens and foreign tourists for public transport, and made positive contributions to building a green, eco-friendly, convenient and comfortable public transport system in Moscow.(www.chinabuses.org)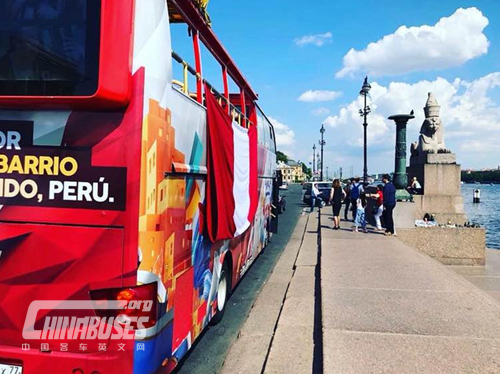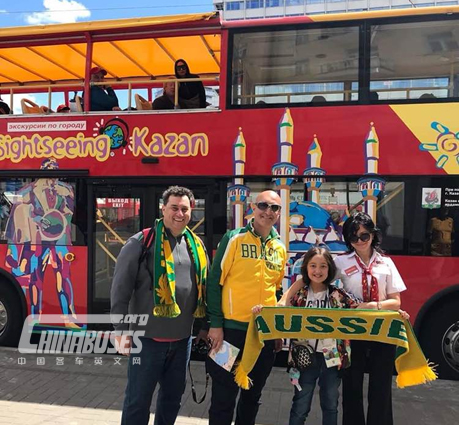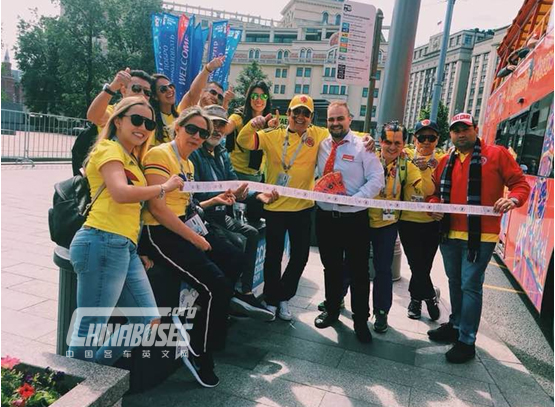 World Cup fans from around the world pose with a HIGER double-decker tour bus for a photo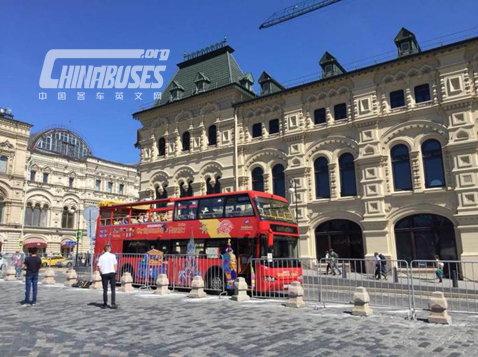 Fans on board a HIGER double-decker tour bus
Source : www.chinabuses.org
Views:4578
Poster Press to save or share