ZF Autonomous and Electric: People Mover to Start Series Production in 2019
June 27,2018
Friedrichshafen. ZF is demonstrating its multiple systems expertise as a partner in the newly founded e.GO Moove GmbH joint venture. In addition to other innovations which ZF will show at IAA in Hanover this September, the e.GO Mover is part of an entire digital logistics offering including hardware, software and services, highlighting the company's strategic orientation.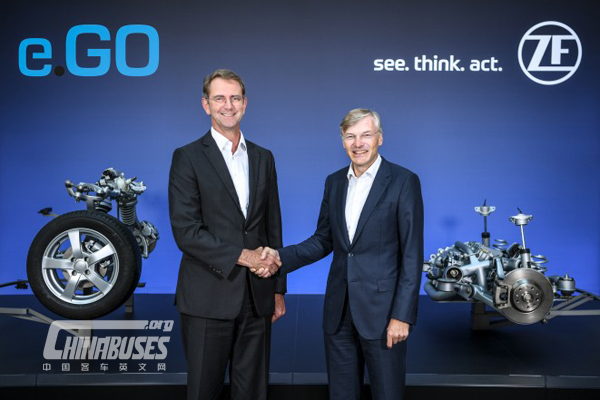 ZF's CEO Wolf-Henning Scheider and Dr. Günther Schuh, founder and CEO of e.GO Mobile AG based in Aachen, have announced that series production will begin in Aachen in 2019. The e.Go Moove GmbH joint venture partners manufacture people and cargo movers primarily for the urban mobility needs of the future. Five-digit volumes are initially scheduled for annual production and ZF is expecting that the demand for these vehicles will reach approximately one million in the next five to seven years. The company is equipping the e.Go Mover with electric drive systems, steering systems and brakes as well as ZF's ProAI central computer (using artificial intelligence) and sensors which enable automated driving functions
"System providers like ZF can significantly benefit from the worldwide trend toward automated driving and electromobility," said ZF CEO Wolf-Henning Scheider during the ZF Technology Day 2018 in Friedrichshafen. "The e.GO Mover is the first production-ready vehicle featuring ZF systems which provides an autonomous mobility concept for cities."
ZF is presenting further examples for digitally connected technologies using an autonomous, electrically-powered delivery vehicle for package delivery services. With this, the courier neither has to drive nor park - the vehicle can follow them independently from one delivery point to the next with zero emissions.
A benefit for commercial vehicles
At the IAA Commercial Vehicles show in September this year, ZF will show further use cases for its ZF ProAI supercomputer and broad set of related sensor systems which can help to increase efficiency and save costs throughout the entire logistics chain. ZF's CEO Wolf-Henning Scheider clearly sees the benefits for commercial vehicles when it comes to introducing autonomous systems. "Initially, we expect to see automated driving activities more commonplace on company premises and logistics depots, in harbors or in agricultural environments as operations there tend to be more recurrent and the surroundings are not too complex." The technology is also expected to prevail in freight logistics and passenger transport because it can reduce operating costs and at the same time help to increase safety for all road users. As a supplier for passenger cars, trucks, buses, light commercial vehicles, agricultural applications and construction machinery, ZF is in the optimal position to create synergies between these areas.
Four main fields of activity – globally and across applications
The right strategy and the right speed are paramount: "In an increasingly complex technology environment, companies that can quickly offer harmonized subsystems or complete systems solutions have a distinct advantage. This is how we have aligned our company's strategy." said ZF's CEO.
"ZF's strategic focus is to be a systems provider that shapes 'Next Generation Mobility'. We want to provide systems solutions which can address all potential requirements when it comes to the mobility of the future," said Scheider. With its broad portfolio of products and competencies, ZF is already active in the relevant technology fields. By mastering the integration of sensors, control units and vehicle motion control, ZF has gained a strong market position. The company is focusing on four fields: automated driving, electric drives, integrated safety systems and vehicle motion control – to make the driving experience as comfortable and pleasant as possible for occupants. In addition, ZF has set up its Internet of Things (IoT) Cloud-based system in order to enable extensive networking between systems. ZF will be active globally and across all applications in these fields, namely for passenger cars, commercial vehicles, off-highway vehicles and industrial technology.(www.chinabuses.org)
Source : www.chinabuses.org
Views:4759
Tags: ZF Autonomous and Electric
Poster Press to save or share