Yinlong Lithium Titanate Powered Double Decker Buses Start Operation in Beijing
August 04,2017
www.chinabuses.org: On July 31, a grand ceremony was held at Yanqing International Exhibition Center to mark the official launch of a new batch of electric buses and taxis. Yinlong electric double-deckers, measuring 13-meters in length, become the first batch of new energy vehicles operating in Yanqing District. They will be put into operation on bus route No.873.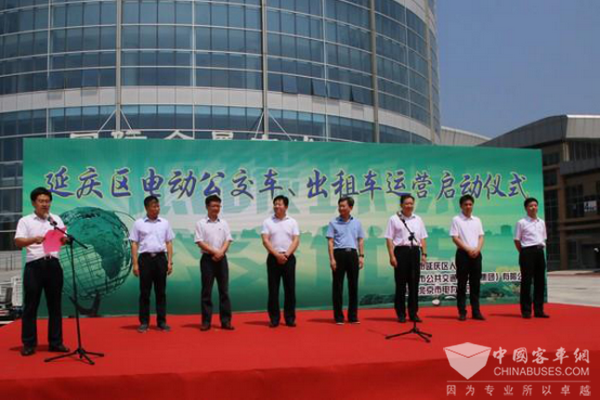 Considering the huge passenger flows in the capital city, Yinlong double-deckers are equipped with a more integrated body structure and have further optimized their interior layout, maximizing the travel comforts for all passengers. Having achieved superbly high safety standards, Yinlong double-deckers can be recharged in six-minutes when put on the fast-recharging mode. Also being able to work smoothly within a wide temperature range (from -50℃ to +60℃). In addition, a lifespan of 30 years is guaranteed, which will greatly help bus operators cut their operating costs and improve their profitability.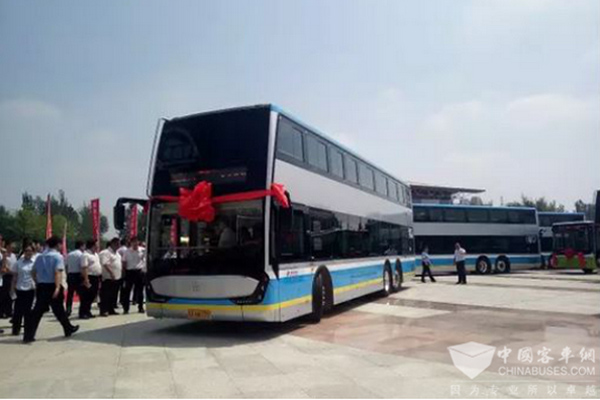 Since the appearance of Yinlong electric tour bus at APEC Summit in Beijing in 2014, Yinlong new energy buses have already made a visible presence in the capital. It has also served at several high-profile events, such as the 2nd Sino-US Low Carbon Summit in 2016. In the same year, Yinlong new energy buses started operation no Beijing Tour Bus Route No.3. In February this year, Yinlong double-deckers started operation at the second ring road in Beijing. Two months later, 33 units Yinlong double-deckers started operation on bus route No.10 in Beijing.
As a model bus operator in China, Beijing Public Transport Group now boasts over 30,000 units buses and over 1,200 bus routes. "By 2020, we will introduce 10,000 units new energy buses", says Zhong Qianghua, Deputy General Manager of the bus operator. The red colored seats are specially located at the entrance and exit of the vehicle to provide more convenience for those physically challenged people and people traveling with kids. In addition, its low-floor access greatly helped those senior passengers. A host of other state-of-art equipment, such as electronic screens, AC systems, and handrails, offer passengers a whole new traveling experience.
Source : www.chinabuses.org
Views:3831
Poster Press to save or share