Higer Bus Shines in Myanmar
December 27,2019
On November 28,GM Company, Higer Bus distributor in Myanmar , held a marketing event in Yangon by joined hands with Higer . Higer bus KLQ6128K and KLQ6119Q models were showed to transport companies and touring companies from Yangon and Mandalay. This is the first time that GM Company has tried a marketing event in the form of a cocktail reception.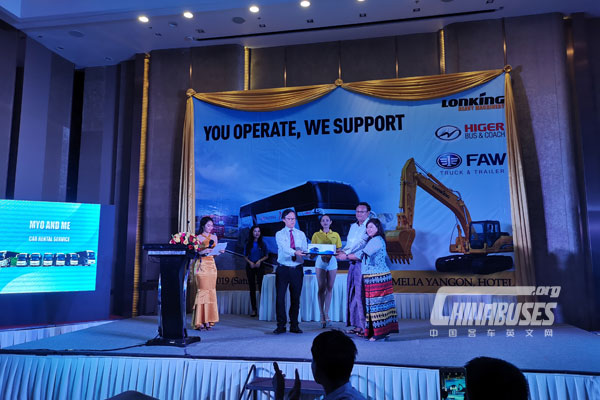 About 100 guests from 50 transport companies and more than 10 touring companies attended the marketing event. Gary Jiang, General Manager of Higer Overseas Sales Company, attended the event together with a team including sales, services, QC, and RD. Before the event, Gary Jiang made an opening speech to express his appreciation that all the customers have chosen Higer bus for many years. Then, Gary Jiang introduced Higer bus production range, RD ability, overseas strategy, and the cooperation history between Higer and GM. Lastly, Gary Jiang announced that Higer will keep on going with and increase the support to Myanmar market.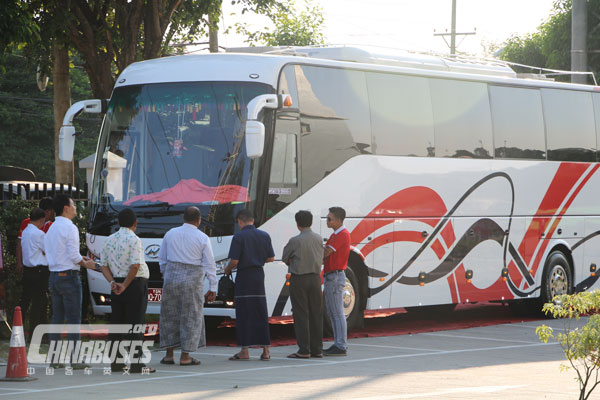 This marketing event is the last event of the year. Since May 2019, GM Company has started its monthly roadshow all over Myanmar country. In Taung Oo, Mandalay, Dawei, Yangon, Monywa, five times marketing event have been held successfully. By these events,Higer Bus increased its brand image in Myanmar, and GM company signed couples of selling contracts and got many intention customers..
Higer Bus firstly entered into Myanmar market in 2010. After 10 years of development, over 1,000 units Higer buses are serving in local touring and transportation market. By virtue of its high-quality products and excellent after-sales services, Higer Bus marketing share is increasing year by year. Looking forward to the future, Higer Bus will try her best to stride forward to a higher step, keep improving and going beyond herself, and make her own contribution to the public transport in Union of Myanmar.
Source : www.chinabuses.org
Editor : Higer