Welcome to Higer Booth in Busworld Brussels 2019
October 08,2019
Busworld Brussels 2019 will be held in Brussels, the capital city of Belgium, from October 18th till 23rd. As one of the excellent representatives of China-made buses exported to the overseas market, Higer will exhibit four of its boutique models in the event.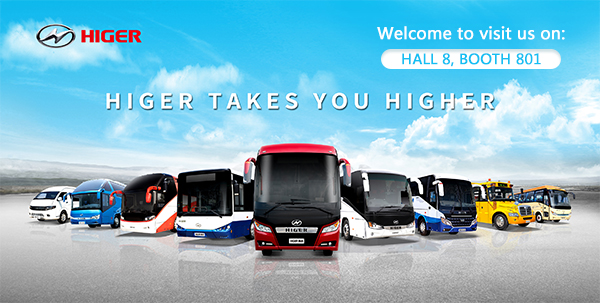 Among the four models, two are diesel buses featuring plain and stylish appearance, economy and reliability; the other two models are pure-electric buses specially designed and developed for European market, which provide European people with greener, more environmental and comfortable experience.
Higer has been dedicated to helping China's manufacturing industry evolve into intelligent manufacturing so as to build the new image for Chinese bus brands. Up to date, Higer buses have been sold to more than 120 countries and regions in the world. The 115 Higer service stations provide overseas customers with high-quality products and reliable service.
At 15:30, local time on October 17th, Higer will hold the Press Conference. Friends from all over the world are welcome to Booth 801 in Hall 8 of Brussels Exhibition Center, where you can join discussions about the future of buses in the world.
Source : www.chinabuses.org
Editor : Higer