Electric Double Decker Buses Launch as ADL and BYD Deepen Partnership
October 26,2015
www.chinabuses.org: Hot on the heels of the launch of BYD's all-electric double-deck at Busworld Kortrijk last week, the company has now agreed a joint venture deal with Alexander Dennis to produce up to 200 single-deck buses a year over the next ten years, in addition to a potential extension to double-deck buses for the UK and international markets.

BYD's electric double-deck was a world first and was one of the star exhibits at the Kortrijk show. The show vehicle is one of five being produced by BYD that will go into demonstration operation in London over the coming months. A second electric double-deck was in London this week to coincide with the state visit by Chinese president Xi Jinping.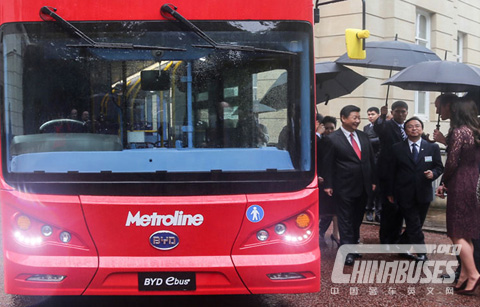 The joint venture deal with ADL follows the earlier announcement of an order for 51 electric buses for Go Ahead London for which BYD will supply a complete chassis with electric powertrain for bodying by Alexander Dennis in Falkirk. It appears likely that as the cooperation between the two companies progresses future models might essentially see Alexander Dennis building the bus while deploying BYD's technology and expertise in electric drive systems, in a similar fashion to how ADL has used BAE's HybriDrive in its conventional hybrid buses.

The extension of the agreement to cover double-decks opens up the prospect for all-electric Enviro400 and Enviro500 models, with the latter clearly targeted at international markets on the back of growing sales for double-decks outside the UK. "The world is turning towards double-deck buses; it is no longer just a peculiarly British idea," says ADL spokesperson Bill Simpson.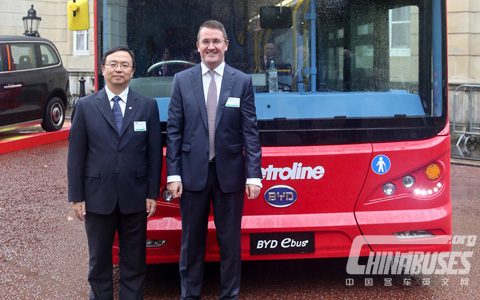 The BYD-ADL deal was signed at Kortrijk by Wang Chuanfu, BYD chairman and Colin Robertson, ADL chief executive.

"Working with top industry partners such as ADL will enable us to speed up acceptance of our vision for fully-electrified public transport systems that can make a major contribution towards the clean air challenges facing cities around the world," said Wang. "ADL's know-how and local market experience in the UK, combined with their global expertise in the double deck sector and our class-leading knowledge of electric technology, creates the perfect platform to jointly develop a range of cost effective, emission-free vehicles to suit every requirement."

Robertson added: "This is the start of an exciting journey with enormous potential and we are delighted to be working with BYD. Their expertise in electric vehicle technology is second-to-none, while we have a global reputation for robust, reliable, high performance vehicles that deliver what they promise – and are backed by world-leading parts and service support, both in the UK and international markets."

"The combined strengths of BYD and ADL create a powerful new alliance and I look forward to our business relationship flourishing in the years ahead."
Source : www.chinabuses.org
Views:4680
Poster Press to save or share