20 Asiastar Double Decker Buses Will Be Delivered to Weifang
December 16,2014
www.chinabuses.org: Recently, Weifang Bus Company reserved Weichai Asiastar luxury double city sightseeing bus is about to deliver, then WeiFang citizens can enjoy the double-decker buses.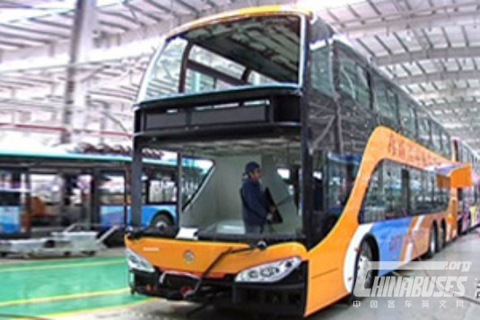 According to know that, Asiastar take this order of 20 sets of large luxury double city sightseeing buses, will be delivered to Weifang Bus Company in late December, after the delivery buses will be in the service of Weifang citizens, and cross through the streets of Weifang.

Entering the Asiastar Bus production place, reporter saw rows of buses was undergoing the final assembly line, the whole body looks coordinate, elegant, beautiful, generous, elegant curve gives the vehicle a clever breath, 1.23 meters high giant upper arc side window gives passenger more beautiful sceneries to enhance the effect of tourism. The crystal type headlamps give a person the sense with clever twinkle. LED running lights and central decorative lamps and lanterns make her city unique scenery line even when driving at night.

According to staff, double-decker buses occupy less road area, but more capacity, the upper vision, suitable for mid-large city transport and tourism. As a large flow of advertisement carrier at the same time, the advertising company, urban public transport, tourism and other departments generally preferred. The bus loaded Weichai WP12 engine, powerful, is a green double-decker luxury bus products which combine tourism and city transport in one.
Source : www.chinabuses.org
Views:5752
Tags: Asiastar Weichai
Poster Press to save or share