Golden Dragon Buses Make its Way to Burkina Faso
September 24,2014
www.chinabuses.org: On Aug. 28, 19 units Golden Dragon luxury coaches queued at Xiamen Port, ready to be shipped to Burkina Faso in Africa. To date, Golden Dragon has become a dominant bus brand in the local market with a staggering presence of over 90%.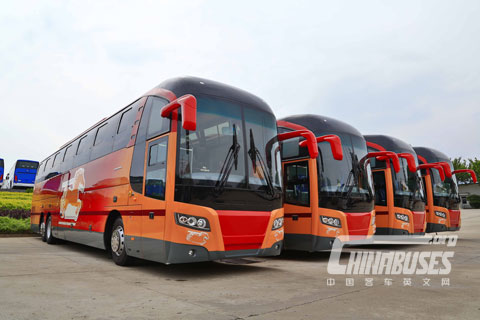 Since its first entry into the African market, Golden Dragon has gradually won recognition and popularity among the local bus operators. Boasting high reliability, Golden Dragon has come to represent the bus with the highest quality and reliability. In Africa, bus operators usually lack awareness of vehicle maintenance. To make matters worse, the continent is often in short supply of bus spare parts. To make up for all these disadvantages mentioned above, Golden Dragon provides timely and highly efficient after-sale services to its African customers, which has successfully helped the bus maker gain trust and confidence from local customers.

As a landlocked country, Burkina Faso is located to the south of Sahara Desert. Though with flat terrain, the nation is mainly dependent on its road for transportation. Due to its hot and humid weather, the roads there pose a great challenge for buses.

According to the person-in-charge of west and north African market, the 19 units Golden Dragon buses delivered to Burkina Faso are chiefly used for the intercity transportation between the capital city and its neighboring cities. In addition, another 20 units Golden Dragon buses are to be off line and be exported to its customer in the near future.

Source : www.chinabuses.org
Views:4243
Poster Press to save or share