Wuzhoulong Luxury Coach to Export to Sudan
August 18,2014
www.chinabuses.org: On Aug. 15, a grand ceremony was held in Wuzhoulong New Energy R&D Mansion to celebrating the signing of contract for exporting Wuzhoulong luxury coaches to Sudan. Wuzhoulong's customer from Sudan, Zhang Yingying, General Manager of Wuzhoulong International Marketing Company, Zhu Lin, Standing Deputy General Manager, and other officals attended the ceremony.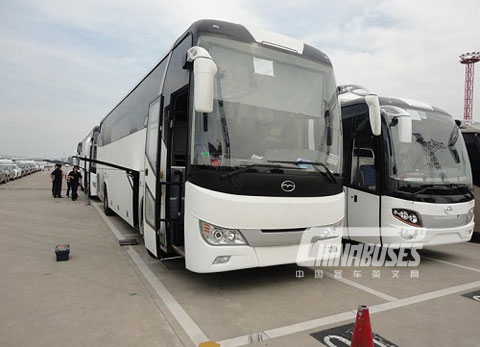 The luxury coaches to be exported to Sudan are Wuzhoulong FDG6128. With an air of refrained aggressiveness, the bus model is surely passengers centered in even the slightest details, from the front and rear lamp to rearview mirror, from the side panels of air inlet bag to the handbar metal locks for suitcases. The nail-free interior refurbishments immediately give people a sense of grand simplicity. Decorated with odor-free and bacteria killing lether materials, the bus is environmentally friendly. Also the provate cabin and one-key-for-ventilation provide drivers and passengers with brand new driving and traveling experience. It is worth mentioning that the driver friendly cockpit saves a lot of troubles for the driver and make it easier to manipulate the vehicle. In addition, the bus also helps its customer cut operating costs by significantly reducing maintenance fees. Overall, the stable performance and reliable quality of FDG6128 have already won the heart of its customer from Sudan.

The deepened cooperation between Wuzhoulong and its customer from Sudan has made significant contributions to Sino-Sudanese friendship. Apart from Sudan, Wuzhoulong buses have been well recognized in a number of African nations, including Zambia and Angola, etc. Currently, the bus maker is making every effort to further expand its business in the African market.

Source : www.chinabuses.org
Views:3268
Tags: Wuzhoulong Luxury Coach
Poster Press to save or share