Golden Dragon Double Decker Buses Start Operation in Xiamen
June 18,2014
www.chinabuses.org: Recently, a new batch of Golden Dragon double-deckers XML6116J18CS were put into operation on the bus route No. 30 in Xiamen. With a height of 4.2 meters and a length of 11.3 meters, the vehicle adopts low-access floor and is mounted with 71 seats. Compared with other double-deckers now in operation in the city, the new bus is nearly 5 centimeters higher and provides more travel comforts to its passengers.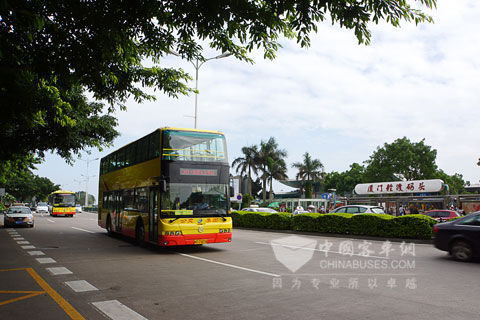 One of the major advantages of double-deckers is that it boasts larger space and high economy. With unique appearance, it also provides its passengers special views of the urban landscape.
"I am very proud to be a driver to drive a double-decker", Mr. Yu, a bus driver on the route No. 30 told our reporter. However, he also pointed out that the vehicle also has its own limitations. For example, it can be only operated on some major urban bus routes which are free from any tree-branches or any other obstructions in the air.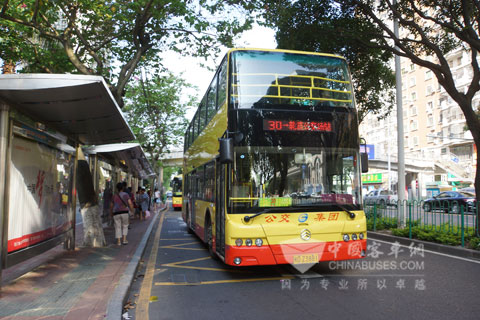 Currently, double-deckers are encountering an increasing number of restrictions. However, it is still too early to predict its doom. An official from Xiamen Public Transport reveals that the company's bus fleet are chiefly comprised of 12-meter buses. However, it will continue to choose double-deckers, which can significantly boost the passenger loading capacities.
Apart from construction of rail transportation and BRT, Xiamen municipal government has expressed its willingness to purchase more double-deckers. According to sources, another batch of LNG double-deckers will start on the roads in Huli District late this month.
Source : www.chinabuses.org
Editor : Dang
Views:3184
Poster Press to save or share