Higer Buses Spotlight China Self-innovated Auto Expo
August 08,2013
www.chinabuses.org: On August 2nd-5th, the 4th China Self-innovated Auto Expo was held in Beijing National Convention Center. This expo showed the development history and the achievements of China self-innovated auto industry and
Higer
displayed its intelligent oil-efficient bus and high-end official bus.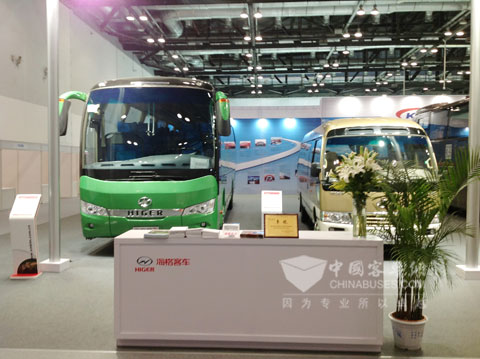 As the leading bus manufacturer, Higer makes extraordinary contributions to the innovation and development of China self-innovated auto industry and its oil-efficient bus won "Best Telematics Technology Service Platform Award".
It's said Higer oil-efficient bus is optimized in power and transmission system. Low rotating speed and high torque engine is powerful and economic. High-intensity galvanized steel body, aluminum transmission and lightened accessories make the bus safe and comfortable.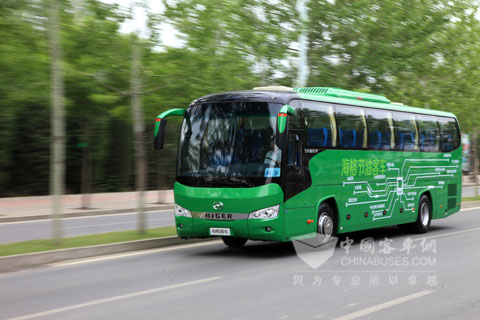 In the management and optimization of energy efficiency, streamline appearance reduces the wind drag; unique Michelin tire and tread technology reduces the rolling resistance. Electromagnetic clutch and high-efficient fan are helpful for reduction of oil consumption.
Besides direct injection common rail + SCR technology, this model is equipped with G-BOS II intelligent operation system.
The high-end official bus on display looks dignified with business style as well as sports style. Wide windshield offers good view of field and dark side windows guarantee the passengers' privacy. 16-step electrophoresis technology keeps body frame from rusty for ten years.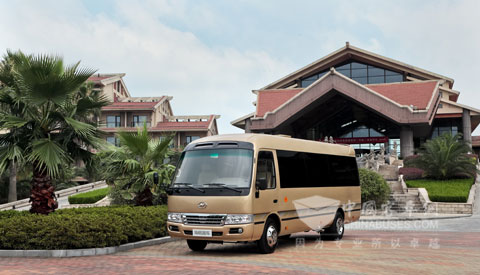 The inner room is spacious enough for a tall passenger to get on/off the bus. Luxury business seats with high-end material are comfortable. There are multi-function computer desk, audio equipment, onboard refrigerator and air purifier.
Founded in 1998, Higer with 0.8 million m2 modern bus base has expanded its markets in 85 countries and regions. Initiating G-BOS intelligent operation system, Higer will make greater contributions to China self-innovated auto industry.
Source : www.chinabuses.org
Editor : Song
Views:4358
Tags: Higer bus coach
Poster Press to save or share