Further opportunity of LNG bus with JAC bus Chassis
February 23,2012
www.chinabuses.org: On February 16, CNPC and Beijing municipal government signed an agreement on the joint cooperation and promotion of the LNG clean energy buses in Beijing. Under the agreement, CNPC will further donate 100 units of LNG buses to Beijing in the first half of 2012.

Through the independent innovation on optimizing the structure of chassis and adopting unique cylinders of the middle way suspension design, JAC bus chassis solve the problem lie in how to put the natural gas cylinders underneath the bus as the height of the two level steps which is to ensure the convenience of the passengers getting on the bus. Compared to lying cylinders in the roof, putting the cylinder in the middle of the frame reduces the gravity of whole bus and improves the reliability and durability. Besides, such design can make the axial load be equal and effectively improve the handling stability and ensure the safety of the cylinder. At the same time the the fixed below cylinder hanging design is convenient to later removal, maintenance of both the cylinders and the bus as well as reduce the maintenance service fee.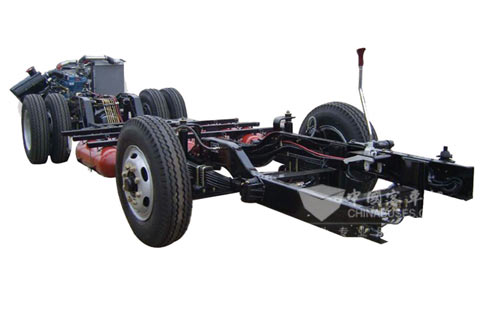 JAC LNG bus chassis HFC6880CNY3

In addition, in view of the natural gas engines easily getting hot and early rust problem of exhaust pipe due to the exhaust high temperature, the chassis of JAC LNG bus increases the width of heat sink and stainless steel exhaust pipe, which dramatically increases the product's reliability .

At present,JAC LNG bus chassis has already formed the series of 5 ~ 12 meters which are widely used in every city bus roads. Based on the LNG bus chassis technology of JAC unique advantages, many China bus builders also purchase the chassis of it, including Shaolin Bus, Youyi Bus etc. According to the related data, it shows that only in January 2012, the sales of JAC LNG bus chassis reaches 380 sets.

As the largest scale & the strongest technology of bus & coach special chassis manufacturers, JAC Bus chassis has more than 20 years of chassis manufacture experience. In 2011,JAC Bus chassis sales reaches 25,600 sets which is in the top one of the China chassis industry.
Source : www.chinabuses.org
Editor : Lily
Views:3109
Tags: JAC LNG bus chassis
Poster Press to save or share