Ankai Double Decker City Buses Used in Fast-line One of Hefei
January 05,2012
www.chinabuses.org:On December 30th, 2011, 20 new Ankai double-decker buses were lining up at the terminal station of Fast-line 1 in Binhu Century City of Hefei where the ceremony was held. Director of Hefei Transportation Bureau WANG, Xiantai; Deputy Director LU, Jingze; Chief Economist of SASAC of Hefei ZHANG, Yi; President of Ankai Vehicle Company WANG, Jiangan; Deputy General Manager CHENG, Xiaoping; Leaders of Hefei Public Transportation Group PENG, Lihuang and ZHANG, Ping and some drivers attended the ceremony.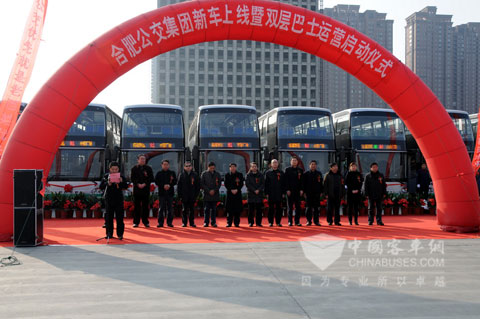 These double-decker buses were all equipped with APTS, some with air-conditioners. They were equipped with State III engines, power steering devices, automatic gearboxes, CAN, air suspensions and imported airbag. Low chassis and 65 soft cushions were comfortable for passengers.

With all these intelligent and humanity equipments, Ankai double-decker buses used in Fast-line 1 will upgrade the image of Hefei, making the city more beautiful and attractive.
Source : www.chinabuses.org:
Editor : Song
Views:2730
Poster Press to save or share