20 Golden Dragon Double Decker City Buses Run in Kunming
November 29,2010
www.chinabuses.org: On 23 November 2010, 20 luxury Golden Dragon double-deck city buses have been ready for debugging and will be formally delivered to Kunming New World No.1 Bus Company.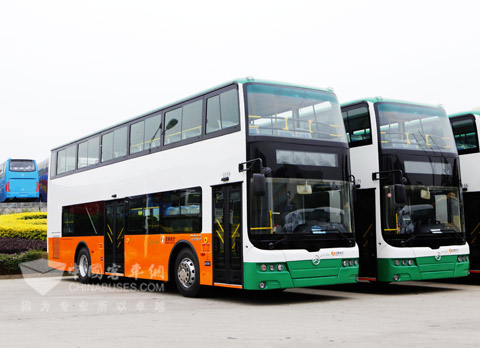 Golden Dragon double-deck city buses
Golden Dragon XML6116J13CS double-deck city bus applies full loading technology, optimized vehicle structure in favor of stiffness, intensity, safety and light weight. It is also good at the improvements of bending stiffness, torsional rigidity, control and energy-saving. In the design of body, this model complied with the demand of low speed and large capacity in the city and merges curving streamline effect based on the square tone, equipped with contracted front bumper.
Concerning interior decoration, human-centered concept is shown at each detail with the feel of being spacious, luxury and comfortable as well as unification in materials, texture, color and shape. It makes passengers convenience for low floor, reasonable heights, double stairs and uses a series of technologies in the layout as well as the design of chassis such as rear-mounted engine, Hungarian electronic gear shifting and front axel with big drop to decrease driver's labor intensity and enhance safety.
It is understood that this model has been operated in the cities such as Kunming and Shenzhen in 2009 and 2010 in mass production and got extensive customers' approvals with international appearance design, excellent control, energy-saving, safety and comfort.
Source : www.chinabuses.org
Editor : Andrea
Views:3654
Poster Press to save or share