Ankai Luxury Double Decker Buses to Show in Golden Operation Line in Yangzhou
August 31,2010
www.chinabuses.org: Recently, the departure ceremony of Ankai luxury double-deck HFF6140S07D-1 buses was grandly held in Hefei. These buses will be applied on the golden operation route from Yangzhou to Suzhou by Jiangsu Yangqi Group.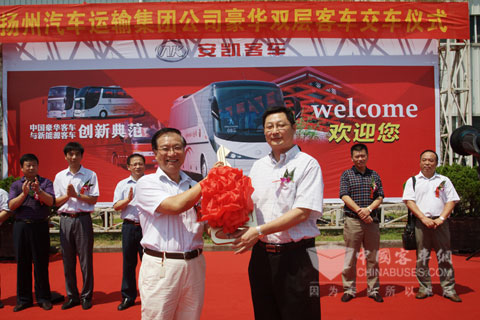 Wang Jiang'an, the president of Ankai Bus transfers the key to Shi Yu, the general manager of Yangqi Group
On the transfer ceremony, Cheng Xiaoping, the deputy general manager of Ankai Bus showed that, "The sales growth of this company reaches one more times than that of the industry, ranking No.l among China bus builders. This year's achievements contributes to customers' great support. Ankai Bus will further make effort to offer proper products and service."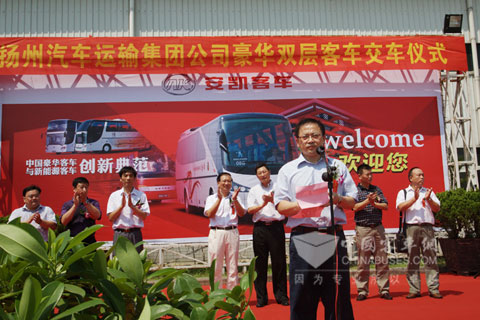 Cheng Xiaoping, the deputy G.M. makes speech
Ankai HFF6140S07D-1 is equipped with powerful Benz engine (Euro Ⅲ), front/rear independent suspension than enhances comfort and stability of the vehicle, spacious chairs, disk braking, imported steering gear box from Germany and unique monoque body.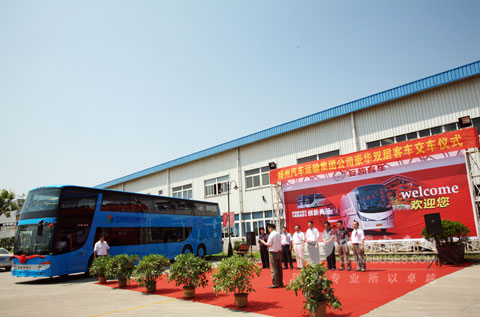 Transfer ceremony of Ankai bus
With broad application of the newest tri-axis structure, this model owns body lifting system, capable of independently being controlled), which offer human-centered convenience. Taking into consideration of different requirements for operators and customers, the net height of single deck is 1.71 meter, 5.5 cm higher than same type model in order to make passengers really experience wide vision. The large passenger capacity of up to 86 people reduces the fuel consumption per capital as well as operation cost and increases the comprehensive profits.
Source : www.chinabuses.org
Editor : Andrea
Views:3327
Poster Press to save or share