Yaxing Bus to Serve 5th Jianzhen Intl. Half Marathon Match
April 29,2010
www.chinabuses.org: The 5th Jianzhen International Half Marathon Match & 2010 National Half Marathon Championship started on April 25th, 2010 in Yangzhou. And Yaxing bus has always served as its service vehicles from the first match. More and more people get known about Yaxing bus through the match.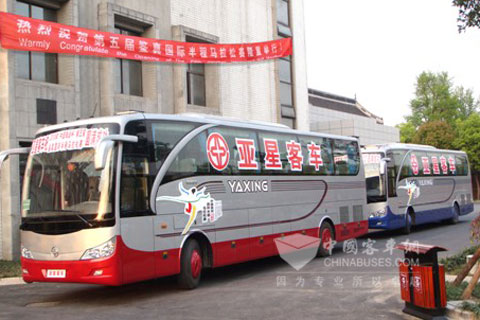 Yaxing Bus waiting for sportsman
Yaxing YBL6123H bus is the main service bus this time and the luxury business coach has served many large activity, and its outstanding performance and comfort have attracted high praise home and abroad. The new Yaxing YBL6123H is more fashionable and business style, traditional 2+2 is changed to 2+1 equipment and twenty-seven adjustable leather seats are assigned in the 12 m2 space; aviation style luxurious passenger cabin, delicate European style interior trimmings, spacious seats and top sound and imaging equipments provide first class experience.
Marathon spirits is similar to Yaxing green and environmental friendly concepts, and as a famous enterprise in Yangzhou, it is Yaxing's obligation to support the match.

Source : www.chinabuses.org
Editor : Eric