Higer Unveils Three Pure Electric Bus Models at Busworld Europe 2023
October 08,2023
The biennial world bus exhibition "Busworld" takes place in Brussels, Belgium from October 7-12, 2023. As the largest and longest-standing professional exhibition for buses on a global scale, this exhibition has attracted renowned bus manufacturers and parts suppliers around the world. It has showcased the latest technologies, products, and solutions, offered new ideas and directions for the future development of the bus industry. It is reported that 526 exhibitors from 38 countries will bring nearly 300 buses to Busworld Brussels, with an exhibition area of 75,000 m2, which created a new record.
At 10:30 a.m. (local time), Higer, the leading enterprise in Chinese bus industry, held a grand press conference at the exhibition site. Leo Zheng, Executive Vice President of Higer, unveiled Fencer F1 Integral EV pure electric bus to the world, which was witnessed by guests, customers and medias from all over the world.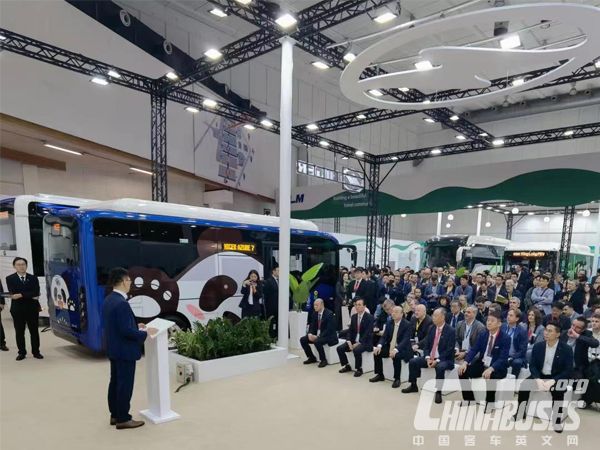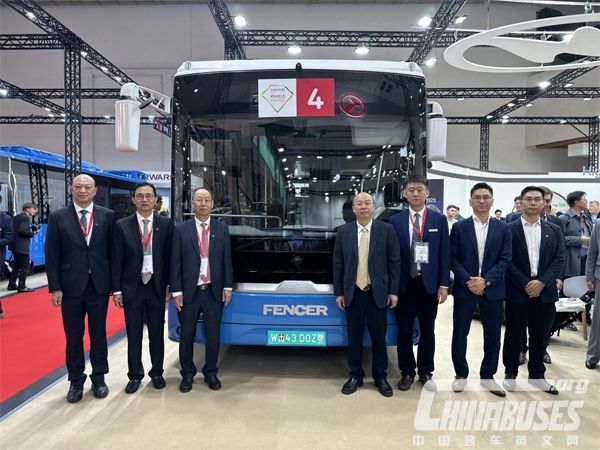 At Busworld Brussels, Higer made its debut with 3 pure electric bus models, including Higer Fencer F1 Integral EV unveiled and released for the first time, Azure 9, a mid-range product customized for Europe, and Azure 7, a "last mile" solution.
Premium Zero Emission Product- Debut of Pure Electric "Fencer"
The Fencer platform officially unveiled its debut vehicle model, the F1, in the United Kingdom on May 18, 2021. Upon its debut, it immediately positioned itself at the forefront of the global city bus industry. Two years later, the pure electric version of Fencer F1 was launched in Europe again. It is a product that can represent Higer's technology accumulation and R&D and manufacturing level in the new energy era.
Fencer F1 Integral EV is equipped with the G4 module high-end chassis independently developed by Higer for the first time. The chassis is based on the whole vehicle and chassis CKD export business under the concept of complete Fencer pure electrification in the later stage and it is specially built for Fencer. G4 chassis uses double-layer protection of frame electrophoresis + powder spraying, and is equipped with ZF disc axles with air suspension and WABCO EBS+ESC . It is a high-standard "battery, motor and electronic control" platform with performance quality benchmarked against European standards.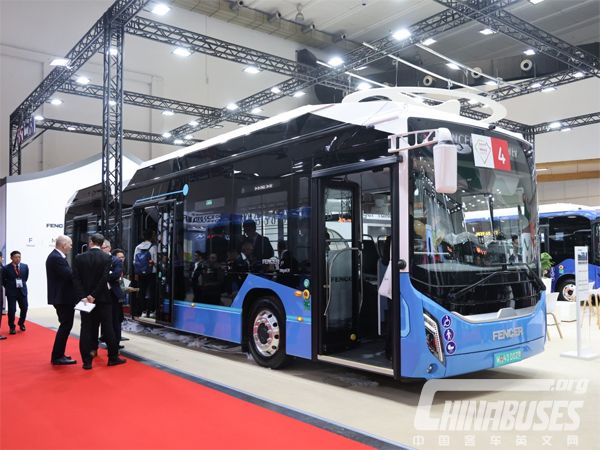 Fencer F1 Integral EV continues its family style in appearance, with a strong sense of technology and future. The body modeling is inspired by Ironman, which has unique personality and recognition. As a bus, the interior space of Fencer F1 Integral EV is friendly to both the driver and passengers. The 12500×2550×3400 mm body size provides 35 seats and 3 doors, providing passengers with the ultimate interior space. The driving area is also elevated to improve the driver's field of vision. The electrical center of the vehicle is integrated on the front roof, not only saving space for passengers but also making it more convenient for after-sales maintenance. The vehicle is designed with a low floor, and the height of steps in the whole vehicle is within 200 mm, which is convenient for passengers and drivers to get on and off. In addition, the vehicle is also equipped with pedestrian protection, blind spot detection, forward collision warning and other designs to improve driving safety.
Fencer F1 Integral EV has two options of the battery capacity, 350 kWh and 422 kWh, for users to choose from according to their actual route needs. The bus can be preheated or precooled during charging to balance the energy consumption. The maximum gradeability of the bus is 20% and multi-gear control is adopted to balance the power performance and energy consumption of the bus.
Azure 9, Bringing a New Low-carbon Bus Option for the European Market
At a time when low-carbon and green travel has become the world's topic, Higer has brought Azure 9, a mid-sized product specially developed for the European market. With the advantages of low floor, large space, low energy consumption, sufficient driving range, intelligence and humanization, Azure 9 is a new low-carbon bus option for the European market.
Azure 9 is the new 6th model of Higer. It adopts an integrated high-ceiling design, with all LED lights configured. The design combines beauty and maintenance convenience, and the visual effect is clean and elegant. It aims to create a travel space with both appearance and quality, making drivers and passengers all have good experience.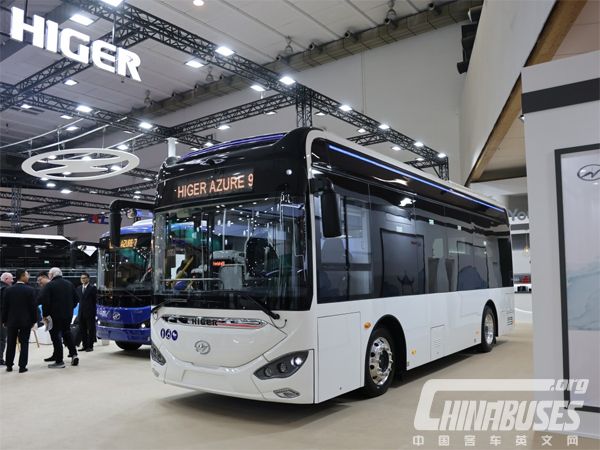 The development of Azure 9 not only responds to the low-carbon and environmental protection concept in the European market, but also fully considers the actual needs of improving bus coverage area and increasing the proportion of bus electrification in old urban areas of Europe. Many designs of vehicles are synchronized with those in Europe, and the vehicle meets the requirements of European certification. Azure 9 ranges from 8.7m to 9m. The whole series is low-floor and pure electric. It can be used as an urban feeder bus, and suitable for suburban operation, point-to-point connection and other market segments. As a successful extension of Higer Azure series to the medium-sized product, Azure 9 has more options for the total number of the seats, which can expand its operation scenarios from urban buses to point-to-point shuttle services such as airport-hotel and suburban short-distance transfer.
Moreover, the moderate size of Azure 9 can provide more convenience for operation. Operators can flexibly allocate route formation according to passenger flow, maximizing transportation efficiency and saving operating costs.
Azure 7, "Last Mile" Solution
As a further extension of Higer's Azure series products to small and medium-sized products after their successful promotion in the target market, Azure 7 aims to provide customers with electric smart solutions for various operation scenarios, successfully solving operators' traffic problems on narrow streets.
The Azure 7 exhibited this time is a new product customized and developed by Higer to meet the needs of European market. As a low-floor pure electric bus in small and medium-sized, Azure 7 is mainly used as community buses, feeder buses and point-to-point shuttles. It has successfully connected major passenger flow distribution points such as communities, schools, hospitals, commercial centers and rail transit hubs, making it the best choice to dredge the "capillaries" of cities and solve citizens' travel problems in the "last mile".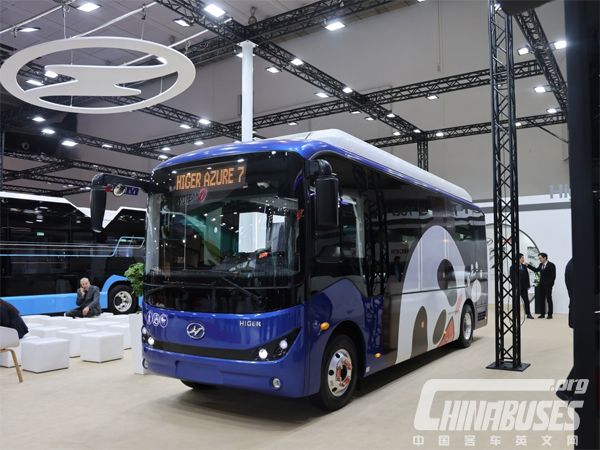 The bus is equipped with instruments which are installed in the independent driving area, making it comfortable and convenient to operate. The passenger area also underlines the user-friendly design of Higer. The flat and large low-floor area in the bus provides considerable standing space, with a maximum capacity of 40 passengers so it can fulfill the needs of free-access and fast boarding and alighting. The seat layout can be customized to meet multiple needs of different routes. As a pure electric bus, Azure 7 is equipped with CATL battery and highly integrated electric driving system to achieve long sufficient driving range which customers are always concerning of. Its high-power and long-driving range configuration also reflects Higer's concept of following the trend of the times and actively leading the market trend. At the same time, new materials and processes are adopted for the vehicle to realize lightweight design. This is a strong guarantee for the performance of the vehicle.
Azure 7 has a unique leading edge over its peers. Its front independent suspension, rear integrated coaxial electric drive axle and single/double-door platform design are all at the leading level of products in the same size. In particular, the front independent suspension is equipped with ECAS system, making Azure 7 more trafficable and stable.
Intelligent networking technology has been widely used in Higer's products. Azure 7 is equipped with a new generation of intelligent bus instruments and drive modules to form the CAN bus system of the whole vehicle. It is equipped with a CAN gateway to improve communication quality; it is configured with T-BOX background data transmission, and the cloud platform monitors the health status of the vehicle in real time. In addition, many intelligent safety auxiliary equipment options are available to better meet the diversified needs of customers.
This is a new journey for Higer to set sail overseas and also a highlight moment for China's buses to shine on the world stage!
Source : www.chinabuses.org
Editor : Higer
Views:10113
Poster Press to save or share