Golden Dragon Natural Gas Buses to Upgrade Kyrgyz's Public Transport Network
July 31,2023
Recently, 28 units Golden Dragon natural gas buses officially embarked on their journey from the production base in Haicang District, Xiamen to their destination, Kyrgyzstan.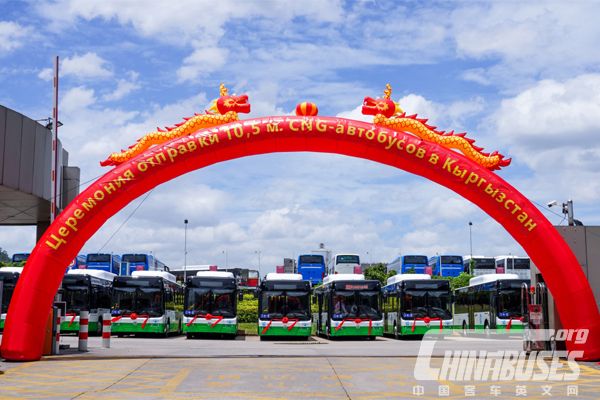 Measuring 10.5-meter in length, all the 28 natural gas buses will soon be put into operation in Bishkek, the capital city of Kyrgyzstan. As a new generation of natural gas bus with low-floor access, they are extremely competitive in the market thanks to their uniquely attractive appearance, enviable passenger loading capacity and high energy efficiency. With the one-step access, the bus has a boarding height of less than 340 millimeters. Equipped with ECAS, it can further lower its entry for boarding when stopping at bus stations.
Compared with gasoline or diesel powered buses, Golden Dragon natural gas buses readily stand out because of its high environmental friendliness and powerful performances. After a refill of natural gas, the bus is able to drive 400+ kilometers continuously. In addition, it can help cities cut carbon emissions by 28 tons annually, which is equivalent to planting 1,300 trees each year. To ensure its smooth operation in the extremely cold weather with the local temperature dropping to -40°C, Golden Dragon has introduced light-weight high-strength steel for the body structure, which has also received anti-corrosion treatment.
According to Golden Dragon, it secured an order of 128 units natural gas buses from Kyrgyzstan in 2021. Despite a host of stringent measures on COVID-19 then, the bus maker organized a special work team from Kazakhstan to Kyrgyzstan so as to conduct an in-depth market investigation and gain a better understanding of local bus operators' and passengers' special needs and requirements. Finally, it successfully beat all other 15 well-renowned bus makers and won the final bid.
As part of a program financed by European Bank for Reconstruction and Development (EBRD), the order of 128 units Golden Dragon natural gas buses from Kyrgyzstan marks a huge step forward for the bus maker in the Belt & Road countries, ushering in a brand new era for its robust growth in the overseas market.
"Our entry into Kyrgyz market is one of our latest achievements in the overseas market. It is also the first time for EBRD to choose a bus maker outside Europe. We have passed a host of assessments organized by EBRD and have won the recognition from a panel of bus experts", said An Min, General Manager of Golden Dragon Overseas Marketing Company. In March this year when Golden Dragon rolled out its sample natural gas bus for Kyrgyzstan, a team of six bus experts from USA, Brazil, etc. sent by EBRD paid a special visit to the bus maker and they all raised their thumbs and gave the nod to the vehicle.
"In Kazakhstan, a neighboring country of Kyrgyzstan, the number of our (Golden Dragon) buses is approaching 2,000 units. Working smoothly there, they serve as helpful guides for our (Golden Dragon natural buses) operation in Kyrgyzstan", revealed An Min. "We have built a spare-parts warehouse, which fully ensures our smooth operation in the country. Our after-sales service engineers will also provide timely services to local bus operators", added An.
After the delivery of the first batch of 28 units natural gas buses, the rest 100 units will arrive in Kyrgyzstan soon, which will greatly upgrade the country's public transport network and provide greener and more convenient transportation services for passengers.
Located in the very heart of Euroasian Continent, Kyrgyzstan, which has been actively advocating Belt & Road Initiative and has long joined the program, is one of the key connecting points on the Silk Road Economic Belt.
From January to June this year, Golden Dragon recorded an export revenue of over 240 million USD, up by 106% year on year. In the same period, its export volume exceeded 3,600 units, up by 75% year on year. According to the bus maker, both its export volume and revenue reached record highs. In January, it delivered 224 units buses to Mongolia. In April, 114 units Golden Dragon Triumph coaches arrived in Saudi Arabia for operation and 70 units Golden Dragon buses started their service in Israel.
Source : www.chinabuses.org
Editor : Mark
Views:6435
Poster Press to save or share