20 Units Higer Hydrogen Fuel Cell Buses Help Beijing Transform into A Greener and Smarter City
July 27,2023
On July 25, Beijing Economic Development Zone held a grand ceremony to launch its first hydrogen energy demonstration project: 20 units 12-meter Higer buses equipped with Innoreagen hydrogen fuel cells officially started operation. Under the operation of Gantang Chuxing, they will provide greater convenience for commuters in the zone.
"The Hydrogen Energy Demonstration Project pools the efforts from Higer, Innoreagen and Beijing Economic Development Zone to integrate hydrogen energy industry with internet of vehicles and intelligent vehicle manufacturing", said Qi Zhigang, CTO of Innoreagen. "We (Innoreagen) will continue to work closely with our business partners to help build a sound hydrogen fuel cell vehicle industrial cluster in Beijing-Tianjin-Hebei", Mr. Qi added.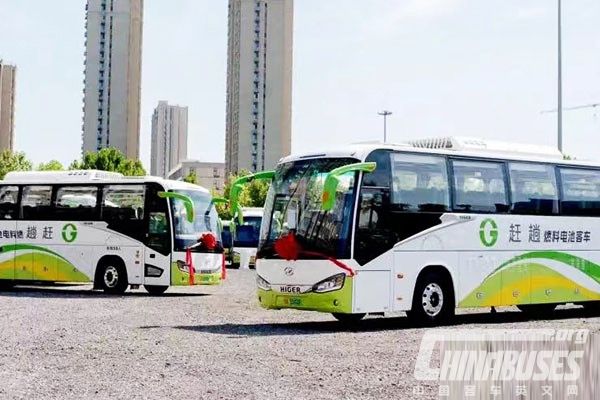 In early 2023, Innoreagen joined hands with Higer and Gantang Chuxing to apply for the operation of hydrogen fuel cell buses for commuting services in Beijing Economic Development Zone. According to Higer, the 115kW hydrogen fuel cell system has gone through a host of stringent tests and has delivered consistently stable and powerful performances. In early July, the 20 units Higer hydrogen fuel cell buses completed their assembly in Suzhou and embarked on their journey to Beijing.
Compared with fossil-fuel powered vehicles, hydrogen fuel cell vehicles generate zero pollutants and can effectively help cities combat air pollution. In 2021, Beijing-Tianjin-Hebei Hydrogen Fuel Cell Vehicle Demonstration City Cluster was officially established. In response, Beijing has taken a host of measures to promote the development of hydrogen fuel cell vehicle industry.
Beijing Economic Development Zone is home to a number of hi-tech enterprises and auto makers. It has been actively promoting the sound development of hydrogen energy industry. Currently, those enterprises involved in hydrogen energy industry are making inroads into commercial buses, heavy-duty trucks, logistic vehicles, engineering vehicles.
Source : www.chinabuses.org
Editor : Isabella
Views:9110
Tags: Higer hydrogen fuel cell bus
Poster Press to save or share