41 Units Ankai G6 Electric Mini-Buses Arrive in Guangzhou for Operation
July 20,2023
Recently, 41 units Ankai G6 electric mini-buses arrived in Guangzhou, Guangdong Province and started operation on several bus routes, including No. 410, No. 482, and No. 483, etc. According to Guangzhou Public Transport, they are the first batch of electric mini-buses introduced on the roads in the city.
Measuring 6.5-meter in length, Ankai G6 mini-bus has 16 passenger seats and large-sized windows. It provides broader views for both drivers and passengers. Thanks to this, passengers are allowed to better enjoy the urban landscape.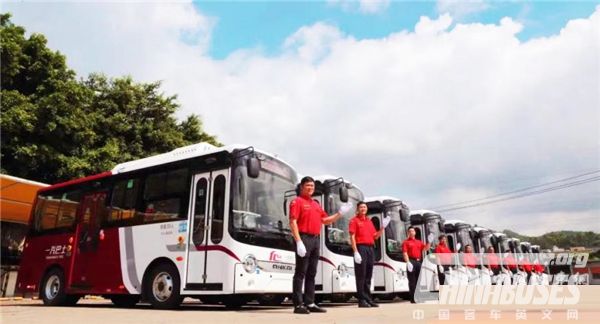 Due to its small size, Ankai G6 achieves extreme agility on narrow roads. As one of the bus maker's star buses, it is equipped with highly efficient permanent magnetic synchronized electric driving system and lithium iron phosphate batteries. On board, it has a highly efficient air-conditioning system and a 27-inch LED screen. Other small design details, such as safety reminders for passengers, fully represent the bus maker's commitment to providing safe travels for passengers.
In addition, Ankai G6 has a host of safety devices to ensure the safe travel for passengers, including voice message for steering, voice reminder for low-speed driving, one-button for breaking windows, one-button for extinguishing fire within the battery compartment and on board, an alarming system for combustibles and evaporable liquids, etc. Its driver's cockpit has fatigue driving alarming system, driver's seat with air-bag vibration-reduction, etc., creating a more pleasant working environment for bus drivers.
In recent years, Guangzhou has been taking a number of effective measures to upgrade its public transport network and provide greener and more convenient transportation services for passengers.
Source : www.chinabuses.org
Editor : Mark
Views:5268
Tags: Ankai G6 electric bus
Poster Press to save or share