BAIC Foton Helps Chile Build the Largest Electric Bus Fleet in South America
July 19,2023
STP Santiago S.A., located in MAIPU, Santiago, Chile, is the largest power recharging station for electric city buses. It is revealed that the station is able to provide power recharging services for 114 units electric city buses at the same time.
Recently, a team of visitors, led by Liu Wei, Deputy Secretary of CPC Beijing Municipal Committee, paid a visit to the station. The team also took a ride on BAIC Foton electric city buses in service in Chile.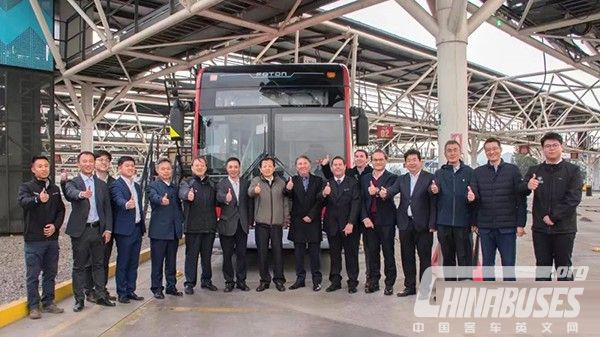 According to Jiang Zili, Deputy General Manager of BAIC Foton, the company put its first batch of electric buses in operation in Chile in 2019. In 2022, it secured an order of 1,022 units electric buses from the bus operator in Chile, the largest one from the overseas market. Currently, a total number of over 1,300 units BAIC Foton electric buses are working smoothly in the country, becoming the leading electric bus brand. With such a formidable presence of electric buses, Santiago has also become the city in South America with the largest electric bus fleet.
As one of the leading brands in China's commercial vehicle industry, BAIC Foton officially launched the research & development of new energy vehicles in 2003. In 2008, BAIC Foton New Energy Vehicle Design & Production Base was established. In the same year, the company's hydrogen fuel cell buses and electric buses successfully served Beijing Olympic Games.
Having made a host of technological breakthroughs, BAIC Foton has rolled out new energy transportation solutions for public transport networks, airport shuttle bus service and logistic services in a number of cities across the globe. Apart from Chile, it has established a solid presence in South Korea, New Zealand, Egypt, Malta, Australia, Mexico and India, etc.
In the meantime, BAIC Foton electric light trucks and vans have obtained WVTA certificate from Europe and thus they have made their way to Italy, Poland and Spain, etc.
In April this year, BAIC Foton officially revealed New Energy Strategy 2.0, clearly indicating its determination to play a leading role in green transportation. According to New Energy Strategy 2.0, it aims to increase the percentage of its new energy vehicle business to over 50% by 2030 and realize carbon neutralization in 2050.
Source : www.chinabuses.org
Editor : Isabella
Views:6167
Tags: Foton AUV electric bus Chile
Poster Press to save or share