100 Units Zhongtong LCK6106D6Z1 School Buses Serving for Dongguan City
May 25,2023
On May 22, a grand ceremony was held in Liaocheng, Shandong Province, to mark the handover of 100 units Zhongtong LCK6106D6Z1 school buses to their operator, Guosheng School Bus Operation Group Co., Ltd. (hereafter referred to as Guosheng Group). All coated in distinct yellow color, these school buses will soon be put into operation, providing more convenient travel services for primary and secondary school students in Dongguan. The number of Zhongtong school buses under the management of Guosheng thus exceeds 500 units, making Zhongtong the biggest supplier for the bus operator.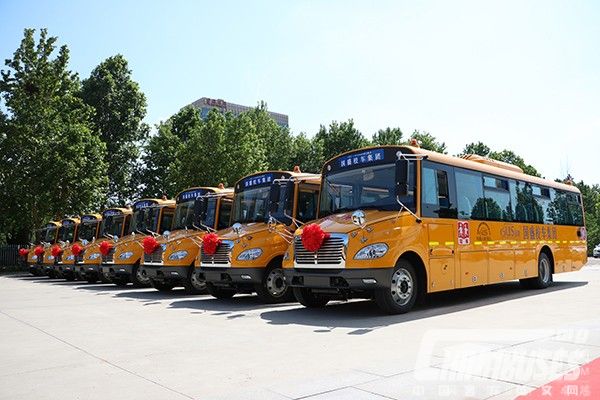 Measuring 10.5-meter in length, Zhongtong LCK6106D6Z1 school bus has a loading capacity of 53 students plus 2 caretakers. With high-strength sealed body structure, it is also equipped with a panoramic viewing system, a collision alarming system, thicker bumpers and wider collision energy absorbing areas, all of which help the vehicle achieve higher safety standards. Considering the age and physical development of students, the bus creates a more comfortable interior and soft covers for all railings on board.
Wen Guosheng, President of Guosheng Group, Jiang Jiaxin, General Manager of Guosheng Group, Li Qingjun, Deputy General Manager of Guosheng Group, Peng Feng, General Manager of Zhongtong, Wang Xingfu, Deputy General Manager of Zhongtong, together with a number of other distinguished guests, witnessed the historical moment.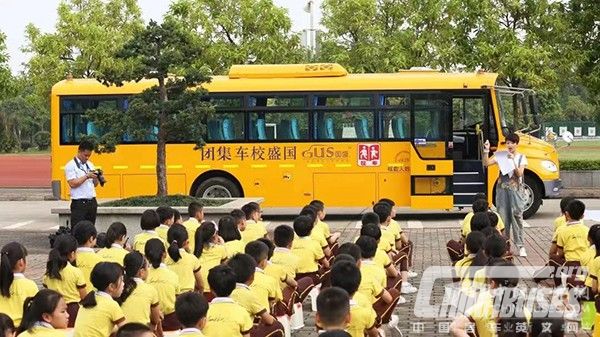 As one of the pioneers in China's school bus industry, Zhongtong boasts a wide spectrum of school bus products and a sound after-sales service network. So far, it has been cooperating with Guosheng for ten years, creating a win-win situation for both parties. In years to come, both parties will work more closely to promote the sound development of school bus market.
Statistics show that Dongguan boasts the largest number of school buses in operation in China. As a pioneering player in the school bus market, Guosheng has long established a solid presence in the city. Established in 2013, it currently operates 1,350 units school buses and provides transportation services for over 70,000 students in over 200 primary and second schools across Dongguan.
Source : www.chinabuses.org
Editor : Mark
Views:5501
Tags: Zhongtong school bus
Poster Press to save or share