780 Higer Buses The Largest Export Order to Saudi Arabia This Year
May 17,2023
Recently, the delivery ceremony of 780 Higer buses exported to Saudi Arabia along the Belt and Road was held in Suzhou Industrial Park. Mohamed Yassin, Product Manager of Higer's Saudi distributor Zahid Tractor, Huang Shuping, Higer General Manager, Qiu Yuanhong, Higer Deputy General Manager and Jiang Haifeng, General Manager of Higer Overseas Sales Company attended the ceremony. This order, totaling 780 buses and valued at over RMB 400 million, represents the largest export of buses from China to Saudi Arabia by 2023. This achievement fully demonstrates the international competitiveness and brand strength of China's high-end buses.
During the delivery ceremony, Higer General Manager Huang Shuping and Deputy General Manager Qiu Yuanhong presented a golden key and certificate symbolizing friendship and cooperation to the Saudi Arabian distributor representatives in attendance. Following the announcement of departure by Huang, the 780 Higer buses officially departed for Saudi Arabia.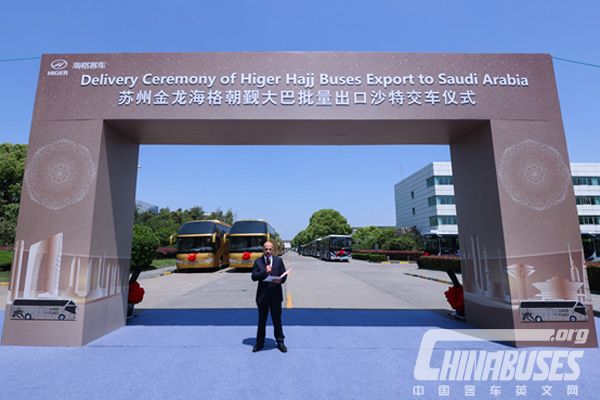 During his speech, Mohamed Yassin stated that the strong strategic alliance between Zahid and Higer has a bright future. The 780 buses represent just the beginning of the cooperation between the two sides. He believed that with Higer's excellent product quality, good customer reputation, and close cooperation, both sides are sure to create another brilliant future!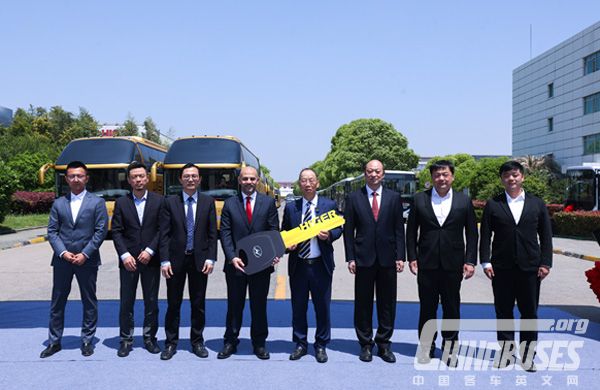 Saudi Arabia is located in the desert area of the Middle East, characterized by hot and dry summers, a mild winter climate, and a lack of rain throughout the year, with droughts being common. The average summer temperature is 45 degrees Celsius, and the maximum temperature can reach as high as 53 degrees Celsius. Given the arid, high-temperature, and dusty climate in Saudi Arabia, Higer has continuously improved its vehicle configuration through technological innovation, based on years of analysis of the actual vehicle performance in Saudi Arabia and a thorough investigation of the market demand for vehicles in Saudi Arabia. By manufacturing high-quality buses, Higer can effectively handle the local climatic conditions and complex road conditions.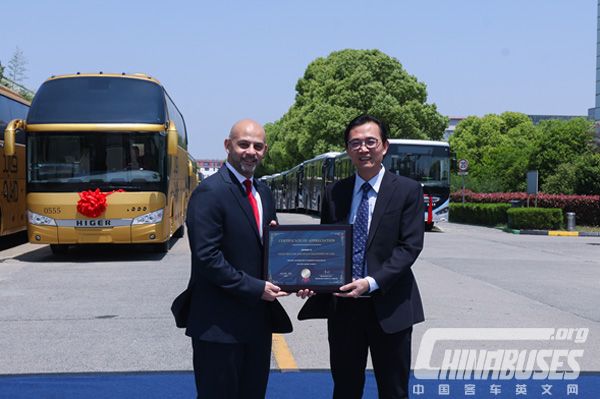 As an important country along the Belt and Road, Saudi Arabia has always been one of China's largest export markets for buses. As a pioneer in China's bus "going global" strategy, Higer began to enter the Saudi Arabian market as early as 2007. Since then, Higer has continuously improved and perfected its product process, enhanced product quality, and continued to "intensively cultivate" the Saudi Arabian market. Currently, almost 4,000 Higer buses have been exported to Saudi Arabia, covering various fields, such as Hajj buses, school buses, city buses, tourist buses, and labor vehicles. Higer has become the quality benchmark and preferred brand of China's bus products in the eyes of Saudi customers, fully demonstrating the excellent strength and product value of "Made in China".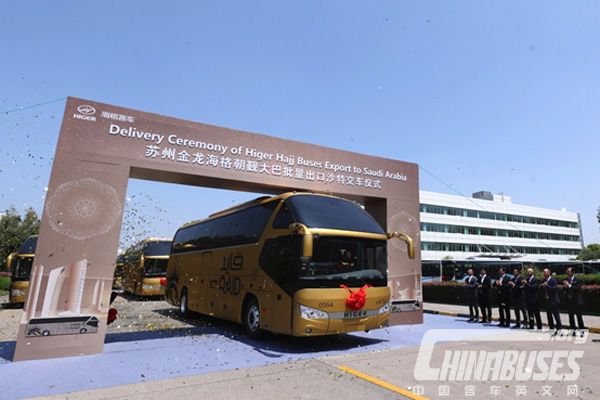 In 2023, Higer will continue to respond to the "Belt and Road" Initiative, using its advantageous production capacity to expand its business globally. Higer will actively follow up on the Hajj project in Mecca, Saudi Arabia's "holy city", and has already won an order for 780 high-end buses worth more than RMB 400 million. This order represents the largest order for China's bus brands exported to Saudi Arabia in the past five years. Moreover, this is another new achievement for Higer after winning the largest batch of school bus orders in Saudi Arabia back in 2015.
In recent years, Higer has become one of the exemplary companies in China's bus industry, actively participating in the "Belt and Road" Initiative. Higer has not only strengthened its cooperative relationships with local distributors and end customers, but has also continuously developed a more perfect and efficient service system to provide users with comprehensive service support and overall operation solutions. In the future, Higer is committed to achieving more cooperation with countries along the Belt and Road in the field of public transportation. Higer strives to become a "benchmark" for China's buses going global and to continue to showcase high-end, intelligent, and green technologies. Higer aims to create a brand-new image of "Made in China" on the world bus stage.
Source : www.chinabuses.org
Editor : Higer
Views:13311
Tags: Higer Saudi Arabia China buses
Poster Press to save or share