Higer Hydrogen Fuel Cell City Buses Start Operation in Daxing International Hydrogen Energy Demonstration Zone
May 10,2023
On May 5, the first hydrogen energy powered bus route officially started operation in Daxing International Hydrogen Energy Demonstration Zone, Beijing. 10 units Higer 10.5-meter KLQ6106 hydrogen fuel cell city buses were put into service.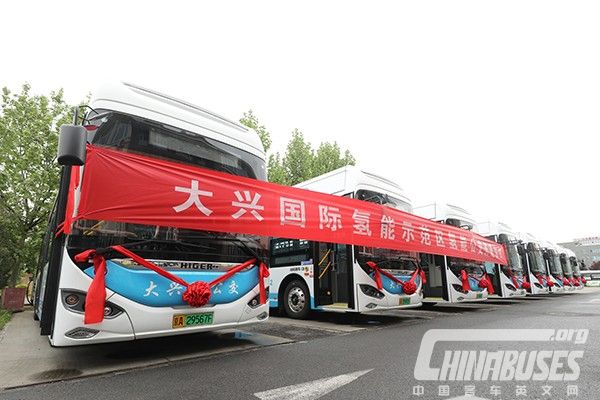 With 28 seats on board, Higer KLQ6106 hydrogen fuel cell city bus is able to have a maximum load of 80 passengers. With more spacious room, it has a special ramp and a parking area for wheelchairs. Equipped with the sixth generation hydrogen fuel cell technology which enables the hydrogen fuel cell to increase its life expectancy to 15,000 hours, the bus can still start easily even when the temperature drops to -30°C. It can also automatically shut down and thus preserve itself when the temperature dives to -40°C.
According to Higer, the hydrogen fuel cells powering KLQ6106 are made by Beijing Yingbo Jieqing Tech Co., Ltd. (hereafter referred to as Yingbo Jieqing), which is headquartered in Daxing District. "In Changshu, Jiangsu province, Higer bus powered by our hydrogen fuel cells consumes only 5 kg of hydrogen for every 100 km. Higer KLQ6106, powered by 92 kw hydrogen fuel cells, achieves higher energy efficiency and well adapts to the cold weather in Beijing in winter", said Wang Yuxi, General Manager of Yingbo Jieqing.
Under the management of Beijing Xingshunda Passenger Transportation Co., Ltd. (hereafter referred to as Xingshunda), KLQ6106 hydrogen fuel cell city buses work on bus route Xing No.40. with a one-way distance of 31.6 km. Each bus is estimated to drive 220.5 km everyday. With a storage of 25 kg of hydrogen on board, the bus is able to drive over 400 km continuously, fully meeting the daily transportation demands. In addition, it can get a hydrogen refill in less than 20 minutes.
"We are very pleased to see the operation of Higer hydrogen fuel cell city buses in Daxing. Their presence on the road will allow passengers to enjoy greener and more convenient public transportation services", said Li Jianzhu, Vice Director of the Transport Bureau of Daxing District.
Daxing International Hydrogen Energy Demonstration Zone launched its construction in 2020. With the completion of its construction, it is devoted to building a whole industrial chain for hydrogen production, storage and utilization. So far, it has gathered a number of hi-tech enterprises specialized in research and development of hydrogen fuel cells, hydrogen storage equipment, etc.
Higer officially launched its research & development of hydrogen fuel cell buses in 2005. In 2008 Beijing Summer Olympic Games and 2022 Beijing Winter Olympic Games, Higer hydrogen fuel cell buses successfully accomplished their transportation tasks, fully showcasing their high quality and high reliability.
Source : www.chinabuses.org
Editor : Mark
Views:7134
Tags: Higer hydrogen fuel cell bus
Poster Press to save or share