The 1,000th Unit Foton AUV Hydrogen Fuel Cell Bus Starts Operation
March 29,2023
Recently, a grand ceremony was held to mark the delivery of the 1,000 unit Foton AUV hydrogen fuel cell bus and a total number of 10.97 million Foton vehicles to their customers, setting a huge milestone for the auto maker.
The recently delivered hydrogen fuel cell buses were Foton AUV BJ6126. Highly adaptable to various working environments, the bus is set to ushering in a brand new era for the intercity passenger transportation. Achieving high safety standards and superb energy efficiency, it is equipped with 120 kW hydrogen fuel cell engine, U heat management system, multiple coupling technology, etc. In addition, it is able to start and work smoothly in -30℃. When the temperature further drops to -40℃, it can automatic shut down and launch self-preservation. Statistics show that after a hydrogen refill in just 15-20 minutes, the bus is able to drive over 500 km continuously. Its intelligent internet of vehicle system, another highlight on the bus, further promotes the integration of vehicles, people and road, providing super convenient and comfortable transportation services for passengers.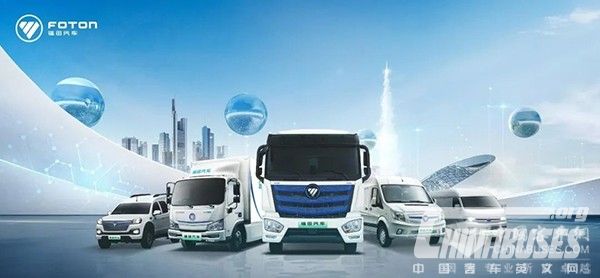 As one of the leading players in the new energy commercial vehicle industry, Foton now boasts the most comprehensive new energy product line. As its first and foremost development strategy, developing and marketing electric vehicles, plug-in hybrid vehicles and hydrogen fuel cell vehicles have been and will continue to be the focus of the company. By 2025, Foton aims to increase its total sales volume of new energy vehicles to 150,000 units. In the first two months this year, Foton's sales of new energy vehicles jumped by 136.6% year on year, fully demonstrating its formidable competitiveness and huge potential in the market.
As early as 2003, Foton launched its research and development of new energy vehicles. In 2006, it made several world record by revealing its first hydrogen fuel cell bus and truck. Thanks to its relentless efforts, Foton has successfully developed buses, logistic vehicles, sanitation vehicles, self-dumping vehicles, tractors and refrigerating vehicles, all of which, powered by hydrogen, have been working smoothly in many cities across the globe.
Having successfully accomplished the transportation tasks at a number of high-profile events, Foton established a bus fleet consisting of 515 units hydrogen fuel cell buses, all of which drove smoothly for 1.888 million km at 2022 Beijing Winter Olympic Games, helping Beijing cut its carbon emissions by over 1,075 tons.
Source : www.chinabuses.org
Editor : Lucy
Views:6547
Tags: Foton AUV hydrogen fuel cell bus
Poster Press to save or share