80 Units Foton AUV BJ6126 Hydrogen Fuel Cell Intercity Buses Delivered to SMTD BAAS for Operation
March 27,2023
Recently, Foton AUV officially delivered 80 units BJ6126 hydrogen fuel cell intercity buses to Beijing SMTD BAAS Co., Ltd. (hereafter referred to as SMTD BAAS). Liu Peng, Deputy General Manager of SMTD BAAS, Wang Xiaoliang, Vice President of Foton AUV New Energy Bus Marketing Department, together with a number of distinguished guests and journalists from various media, witnessed the historical moment at the handover ceremony. According to Foton AUV, the company has so far delivered 10.97 million units vehicles to its customers across the globe.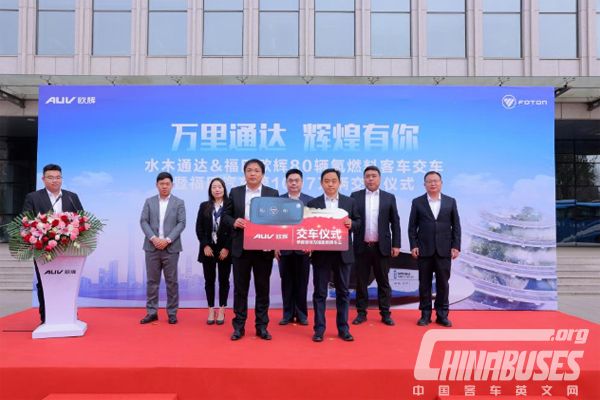 Generating zero emissions and achieving super high energy efficiency, Foton AUV BJ6126 hydrogen fuel cell intercity bus is equipped with a host of advanced technologies, including U heat management system. After a hydrogen refill in just 15-20 minutes, the bus is able to drive over 400 km continuously and further cut its hydrogen consumption by 7%.
Always regarding safety as its top priority, Foton AUV has successfully developed a series of new technologies to ensure the safe use of electricity, hydrogen and electricity-hydrogen coupling on its buses. In addition, Foton AUV hydrogen fuel cell bus is equipped with advanced technologies to ensure smooth operation in low temperatures. When temperature drops further, it can automatic shut down and launch self-preservation. Foton iTink System, another technological highlight on Foton AUV hydrogen fuel cell buses, allows bus operators to achieve more intelligent and more efficient management of their bus fleet.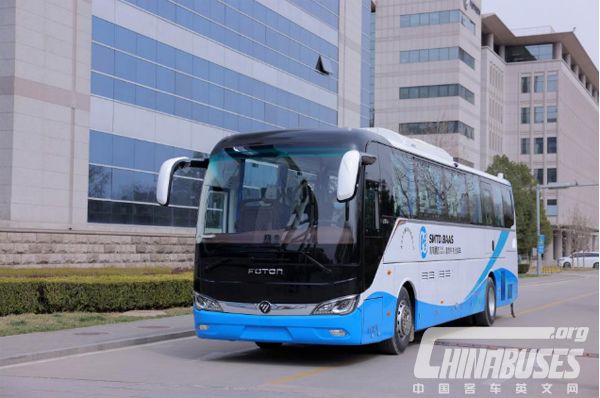 In 2021, SMTD BAAS purchased 80 units BJ6116 hydrogen fuel cell buses from Foton AUV. Achieving high reliability and high safety standards, Foton AUV hydrogen fuel cell buses have been working smoothly and consistently delivering impressive performances. With super comfortable environment for both passengers and bus drivers, they have been gaining fast rising popularity.
At 2022 Beijing Winter Olympic Games, SMTD BAAS and Foton AUV worked together and accomplished all the transportation tasks in Zhangjiakou, one of the three major venues for the sports event.
As the first bus operator in China specialized in operating hydrogen fuel cell buses, SMTD BAAS is committed to promoting commercial operation of hydrogen fuel cell buses. In 2017, the bus operator officially launched its hydrogen fuel cell bus transportation services. In the same year, it started cooperation ties with Foton AUV.
As one of the pioneers in the hydrogen fuel cell bus industry, Foton AUV launched its research & development of hydrogen fuel cell buses in 2003. Through constant technological innovation, it has made a number of impressive achievements in this industry, including successfully sending 515 units hydrogen fuel cell buses in service for 2022 Beijing Winter Olympic Games.
Source : www.chinabuses.org
Editor : Isabella
Views:8270
Tags: Foton AUV hydrogen fuel cell bus
Poster Press to save or share